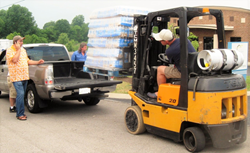 Water, although sometimes disasterous, is also essential. That is part of the reason we wanted to provide people with this basic need
ROCKVILLE, Md., (PRWEB) August 30, 2016
CoesterVMS, a national appraisal management company, has donated 144 cases of water to help the victims of the flooding in Louisiana.
"There are so many people in need after the devastation that affected so many people in the Gulf region," said Brian Coester, CEO of CoesterVMS. "Water, although sometimes disasterous, is also essential. That is part of the reason we wanted to provide people with this basic need."
The water donation will be given to the Capital Area United Way in Baton Rouge, which plans to hand out the water laster this week.
About CoesterVMS
CoesterVMS is a nationwide appraisal management company that specializes in providing comprehensive management of appraisal operations for mortgage lenders. CoesterVMS' in-house appraisal management solution combines the best service with the most advanced technology on the market. CoesterVMS guarantees all appraisal reports to fully comply with all regulations and guidelines. The company's Cloud Control appraisal management technology is the only software of its kind to be built on the award-winning Salesforce.com platform, and its "Coester-Mer" service is earning the company a reputation for the best customer service in the industry. Headquartered in Rockville, Maryland, CoesterVMS was founded as a local appraisal company and has since grown to a formidable nationwide force in the appraisal management segment. For more information please visit CoesterVMS online at http://www.CoesterVMS.com.