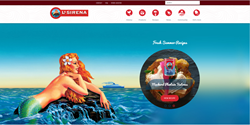 ...the team at GoMarketing was able to diagnose site issues, develop new content pages, and produce a cohesive design that is much closer to La Sirena's overall look and feel
Thousand Oaks, CA (PRWEB) August 29, 2016
La Sirena Foods, a global producer of fresh caught, canned tuna, sardines, and mackerel, launches a new website to promote their rapidly expanding business. The re-designed site is modern and clean, the perfect platform to educate domestic customers on the healthy benefits of La Sirena's products. A staple in Latin America, La Sirena aims to bring some bright new flavors and combinations to make a big splash on the US market.
La Sirena partnered with GoMarketing, a boutique marketing and web development firm, to revitalize an old design, bringing their site into the 21st century. Elements like interactive maps, connected recipe pages complete with videos, and a mobile-responsive design guarantee that users can easily access product information across a multitude of different devices. GoMarketing cleaned up the user interface, layout, and product organization, making the navigation of the site much more intuitive and functional.
"We had a prior site design in development for months, but we weren't seeing the elements on page that fell in line with our brand" said Monica Diaz Moreno of Otis McAllister, the parent company behind La Sirena and many other global food brands. "In just a short period of time, the team at GoMarketing was able to diagnose site issues, develop new content pages, and produce a cohesive design that is much closer to La Sirena's overall look and feel," remarked Diaz Moreno.
Thanks to expertly written content, responsive design, and partnerships with the Earth Island Institute and Nuestros Pequenos Hermanos (a charity for abandoned and orphaned children Latin America and the Caribbean), La Sirena's new site ranks well on search engines with an amazing user experience. With a modern re-designed website in hand, La Sirena is excited to grow the brand exposure exponentially in the United States, aiming to compete directly with other large canned fish companies by bringing some Latin flavor to the market.
About GoMarketing
Over the past ten years, GoMarketing has constantly endeavored to understand the internet marketing landscapes as it changes practically daily. They offer Software Design, Online Advertising, Internet Optimization, Social Media Optimization, E-Commerce solutions, Website Design and Development, and a host of services to provide our Clients with the best programs to meet their goals. Clients have included, MetLife Inc., Dover Corporation, CBS, TBS, FOX Sports, ESPN, ITC Translations, RealtyTech and many more.
For more information about online marketing and advertising benefits please contact GoMarketing at: GoMarketing.com and call toll free at (805) 413-7888