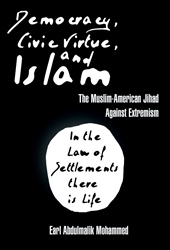 We abide by God's words in our Holy Book... We comprehend the responsibility illuminated in The Constitution... and we want to be trusted as other citizens are with our share of the duty. It is my prayer that this book makes the argument readily.
W. Conshohocken, PA (PRWEB) September 13, 2016
In an unprecedented public and direct condemnation of Muslim extremism, a new book Democracy, Civic Virtue, and Islam: The Muslim-American Jihad Against Extremism- written by a long-time respected voice on Islam and Muslim affairs, Earl Abdulmalik Mohammed, has been recently (May, 2016) released by Infinity Publishing.
The author, a distinguished spokesman for Islam and the Muslim-American community for over a quarter century and former National Representative of the late W. Deen Mohammed (leader of America's largest indigenous Islamic community), introduces what he calls, "the Muslim-American community's guiding Islamic principle of citizenship responsibility," in an intriguing book which is part history of the development of Islam in America and the Muslim-American identity, part analysis of the crisis in Islamic-world leadership, and part manifesto arguing the value of America's indigenous Muslim community in aiding the American public and leadership to successfully confront and abate the complex issue of Muslim extremism.
Mohammed combines authentic scholarship with common language and understanding in identifying the specific Islamic principles derived from Islam's primary sources of knowledge - the Holy Qur'an and Muhammed the Prophet's tradition - which manifest for Muslim-Americans as both a social establishment philosophy of civic virtue, and a rooted, organic shelter protecting against extremism, while respectfully chiding American leadership for overlooking and under-appreciating what is its most valuable, native, and exportable ideological resource to nullify the rise and threat of Muslim extremist influences.
Mohammed is a life-long student of Islamic knowledge, and an accomplished teacher of religion and scriptural sciences with advanced credits in international and Arabic language studies from the Middle East Institute, Georgetown University, and the Modern Arabic Language Institute of Yemen in Sana'a. Imam W. Deen Mohammed said of him, "He, in my opinion, is responsible for most of the propagating of the true image of Muslims in America. Not just for us, but for all Muslims."
Democracy, Civic Virtue, and Islam: The Muslim-American Jihad Against Extremism will be compulsory reading for anyone interested in clear recognition of what Islam is, what it is committed to, and how an African-American community of Muslims interprets it to champion citizenship responsibility, to preserve the highest democratic ideals, and to defend the notion of a free, just, productive human and American society.
To officially review the book for a publication, or arrange an interview with the author, please contact:
Abdul-Hafeez Waheed, Public Relations (919) 282-7110
Mylika Cherry-Hutty, Literary Agent (267) 597-8553
Email: author(at)muslimamericanbooks(dot)com