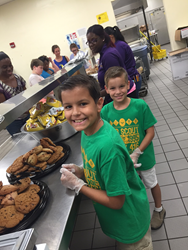 We had tons of fun preparing and serving food for this event
Columbia, SC (PRWEB) August 31, 2016
HarborChase of Columbia, a local assisted living and memory care community, sponsored a "Back to School Bash BBQ" at Epworth Children's home on Wednesday, August 10. Volunteers from HarborChase served over 150 children, sponsors, faculty and guests. HarborChase of Columbia is managed by Harbor Retirement Associates (HRA), a regional senior living development and management company based in Vero Beach, Florida.
"We had tons of fun preparing and serving food for this event," said Rob Hernandez, Executive Director of HarborChase of Columbia. "We are excited anytime we are able to give back to the community, but this was extra-special. One of our own residents at HarborChase graduated from Epworth's Children's Home in 1963, so it was very meaningful to her and to all of us."
In addition to cooking and serving a BBQ lunch, HarborChase of Columbia provided school supply gift bags to all 75 children registered for the event. Volunteers relieved Epworth's kitchen staff of their duties during the event so they could enjoy the festivities. Local Boy Scouts also participated in serving food during the event. For more information, call (803) 781-2243.
Located at 120 Fairforest Road in Columbia, HarborChase of Columbia features 24-hour staff, supportive services, scheduled transportation daily, housekeeping service, concierge services and the exclusive Chef's Fare Dining Program with customized dining experiences in multiple venues. It also includes HRA's signature Life Enrichment Program, designed to provide social, devotional, fitness and recreational opportunities that have a positive impact on residents.
For more information on HarborChase of Columbia, visit http://www.harborchase.com/senior-living/sc/columbia/harborchase-of-columbia/.