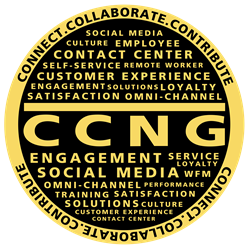 ... helping businesses continually improve their customer service.
Fort Worth, TX (PRWEB) August 30, 2016
CCNG International, Inc. is pleased to announce Robert C. Davis and Associates as a new contributing Partner Member.
Robert C. Davis and Associates is not just another training, coaching and consulting company. They are a change agent that helps customer contact centers achieve their goals and sustain their success with an exclusive process they call "The Quality Conversation." Their desire is to enable customer operations centers to have quality conversations with every customer.
"The Quality Conversation: Driving Desired Results in Contact Centers" is the title of the webinar CCNG recently recorded with Robert C. Davis and Associates. This webinar discusses practical examples using The Quality Conversation approach and shares case study information from clients DIRECTV/AT&T and Police and Fire Federal Credit Union.
"We are delighted to be participating with CCNG to share some remarkable success stories about The Quality Conversation and its positive impact on call center performance," said Bob Davis, Founder and CEO of Robert C. Davis and Associates. "When I think of this work, it reminds me of the quote from Emerson, 'What I need is someone who will make me do what I can,' which is just what we aim to be in every engagement. We look forward to sharing this information and participating fully with CCNG."
CCNG International, Inc. is also pleased to announce continued participation and contribution from Partner Member Plantronics.
Long time CCNG Partner Plantronics considers breakthroughs in audio technology its daily business. Plantronics pioneered the lightweight headset, the mobile headset, noise-cancelling technology, and the personal speakerphone, always driven by a single obsession: remove the barriers to simply smarter communications. Plantronics believes that "The future sounds better from here."
The Head of Global Contact Centre & Alliance Marketing for Plantronics, Richard Kenny, has recorded several video interviews with CCNG on topics including important trends, recruiting/skillsets, workspace changes, technology, and more. The most recent video interview focuses on the topics of analytics and automation. With the increasing pressure on organizations to both reduce costs and improve service quality, organizations are re-inventing their service and support to automate tasks and understand customer intentions to provide a more personalized experience.
"Plantronics has for many years enjoyed a relationship with CCNG based on knowledge-sharing, both in-person at CCNG events and remotely using digital media", says Neil Hooper, Senior Marketing Manager for Plantronics. "Exchanging ideas at both strategic and tactical levels serves our common goal of raising the bar for contact center knowledge and performance – helping businesses continually improve their customer service."
CCNG invites you to connect with these and other CCNG Partner members as they participate in CCNG's regional events. These regional events are exciting, idea-generating, problem-solving, face-to-face events that include member presentations, town hall discussions, and peer group conversations. Watch the CCNG web site for details regarding upcoming events.
CCNG International Inc.
Founded in 1992, CCNG International Inc. CCNG is a member Professional Peer Network (PPN) for Contact Center and Customer Service Executives, Managers, and Leaders.
Within the CCNG Member Network, Contact Center and Customer Service Professionals:

Connect – interact and engage with your peers
Collaborate – discuss best practices and problem solve
Contribute – share your own experiences and expertise
All Call Center, Contact Center, Customer Care, Customer Service, and Customer Experience Professionals are invited to participate in the CCNG Member Network.
For more information about the CCNG Member Network, please visit CCNG.com, "Like" us on Facebook, and follow us on Twitter - @CCNGNetwork.
# # #