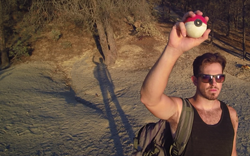 Now you can throw a real ball and catch them the way they were meant to be caught.
Los Angeles, CA (PRWEB) August 30, 2016
For the first time ever, Pokémon Trainers can toss a real life Pokéball to catch wild Pokemon in the global smash hit game Pokemon Go. The project is trending fast on Kickstarter having already surpassed their raise goal in just under a week.
The Official Trainer Ball is a revolutionary kinetic hand controller for the #1 most downloaded game on the planet that allows users to throw the ball, and catch like a real trainer. It is the definitive way to play Pokémon Go, further blending the lines between game and reality.
"We're really excited to be using a new technology in this application. It's a technology in artificial intelligence called ComputerVision," says co-founder Ryan Lupton, "And ComputerVision essentially allows you to be able to use your phone's camera as though it were a pair of human eyes and it can identify and recognize objects in real time. And then we can use those objects in the game as real pieces that we can interact with."
The ball itself is durable enough for impact with the ground and made out of a soft safe rubberized foam material, so users can actually throw it without worry. The Official Trainer Ball use a complex list of technologies to do this but the main technology is similar to the one powering Snapchat's Face Detection Software. Add that with the data from the acelerometer, plus a two way detection from Bluetooth, and the company has been able to create actions in the game based on it's pinpoint location from the camera.
The Official Trainer Ball controller works exactly how it does in the games, users can either toss the ball, or simply hold the ball in hand while making the motion gesture. To top it off, the Official Trainer Ball doubles as a USB backup power bank to charge virtually any phone battery allowing Pokemon trainers to keep on catching them.
"I've been blown away by how ground-breaking this app has become so we wanted to think of a way that we could take this app to the next level and make it even more of a reality by creating a remote," adds Lupton. "Now you can throw a real ball and catch them the way they were meant to be caught."
The Official Trainer Ball is currently live and available to support on Kickstarter: http://kck.st/2bomyoB
About GamerReality LLC
Gamer Reality is first and foremost a software company that makes tools for game developers. The company had an idea to create a suite of APIs and a game engine plugin that allow game developers to integrate real world objects into their mobile games. Their technology turns an object like a ball into something that interacts with digital objects in augmented reality games.
For more information on GamerReality please visit http://gamerreality.com
###