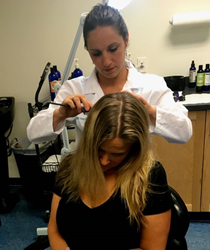 Cris Durkin and her team of certified lice technicians offer more than 10 years of expertise to families, schools and camps in Putnam, Middlesex and Northern Westchester counties.
Cortlandt Manor, New York (PRWEB) September 02, 2016
A new Lice Treatment Center franchise is now open and ready to help families who live in Putnam, Middlesex and Northern Westchester Counties, NY. With the newly opened LTC®Putnam franchise, families, schools and camps in the area now have access to the nation's best weapon for fighting one of the world's most obnoxious predators: head lice or pediculosis.
LTC® Putnam offers on-site lice removal services in homes, schools, camps or anywhere lice live and thrive.
If families are experience any of the following head lice symptoms, LTC®Putnam is ready to help:

An increase in itching or a tickly feeling in hair or on the scalp;
Presence of red sores on scalp, particularly behind the ears and at the nape of neck;
Appearance of LIVE LICE in the hair or nits (lice eggs) attached to hair shafts. Unless there is a severe infestation you may not see live bugs, because lice move quickly and can hide among the hair shafts.
LTC® Putnam's owner, Cristina Durkin, has extensive experience as a hair care specialist. Cris and her certified associates have undergone the rigorous training at Lice Treatment Center's Lice Academy™ required by and exclusive to all LTC® franchises. As an LTC® franchise, Cris and her team apply LTC's proven treatment methods and all-natural products that have been developed and tested for efficacy since 2005. LTC's physician-developed lice treatment processes and all-natural products have been successfully applied to more than 250,000 families as well as hundreds of school and camp administrators across the nation.
Families can reach LTC®Putnam at (914) 420-4980 any time of day or night to stop a lice infestation.