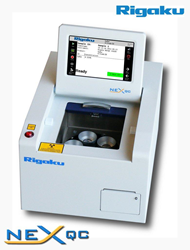 Austin, Texas (PRWEB) August 30, 2016
Applied Rigaku Technologies, Inc. (ART), a division of Rigaku Corporation, is pleased to announce is attendance at Labelexpo Americas 2016, to be held September 13 - 15, 2016 at the Donald E. Stephens Convention Center in Rosemont IL, USA.
X-ray Fluorescence (XRF) is a standard technique used across the paper industry to determine Silicone coating thickness and composition, as well as other important paper chemistries.
ART will present its Energy Dispersive X-Ray Fluorescence (EDXRF) elemental analysis instrumentation at Stand #2046. Featured instrumentation will include the Rigaku NEX QC series of benchtop EDXRF spectrometers and the Rigaku NEX OL EDXRF process analyzer.
About Rigaku
Since its inception in Japan in 1951, Rigaku has been at the forefront of analytical and industrial instrumentation technology. Rigaku and its subsidiaries form a global group focused on life sciences and general purpose analytical instrumentation. With hundreds of major innovations to its credit, Rigaku and its subsidiary companies are world leaders in the fields of small molecule and protein crystallography, X-ray spectrometry and diffraction, X-ray optics, as well as semiconductor metrology. Rigaku employs over 1,400 people in the manufacture and support of its analytical equipment. Its products are in use in more than 90 countries – supporting research, development, and quality assurance activities. Throughout the world, Rigaku continuously promotes partnerships, dialog, and innovation within the global scientific and industrial community.
For further information, contact:
Robert P. Bartek
President
Applied Rigaku Technologies
(+1) 512-225-1796
info(at)RigakuEDXRF(dot)com