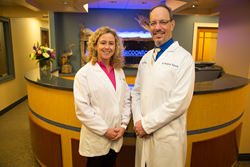 Westerly, RI (PRWEB) August 29, 2016
Dr. Gregory A. Toback and his associate, Dr. Marianne Urbanski, of Shoreline Periodontics are pleased to announce that they are now accepting patients in need of orthodontics in Westerly, RI, who would like straight teeth to complete their stunning smiles. To see fast and lasting results, Drs. Toback and Urbanski recommend that many patients undergo treatment using Wilckodontics®, which is also known as Periodontally Accelerated Osteogenic Orthodontics. Applying this method, patients can quickly enjoy straighter teeth and a healthier smile.
Wilckodontics® is a unique treatment plan for the accelerated care of bite and alignment issues of the teeth. It can be used for both teenage and adult patients who desire straight teeth, and provides quick, long-lasting results. Although Wilckodontics® is similar in many ways to traditional braces, it has several key differences. This orthodontics treatment plan begins when Drs. Toback and Urbanski perform surgery to alter the oral tissues to remove some of the bone surrounding the teeth. This makes the bone particularly malleable, so braces can be placed and have a greater impact on the softer tissue. Many patients see satisfactory results in as little as three months.
The benefits of Wilckodontics® are great for people of all ages and lifestyles. Orthodontics patients in Westerly, RI, undergo quick and effective treatment that delivers predictable results. Treatment can be complete in less than eight months, so patients can quickly continue their lives and enjoy their straight teeth once treatment is over.
Dr. Toback, a highly-experienced periodontist who is a Diplomate with the American Board of Periodontology, is certified along with his colleague Dr. Urbanski, in providing this treatment to patients. Those who would like to learn more about the procedure are welcome to contact Shoreline Periodontics' Westerly location at (401) 622-4661 for additional information.
About the Practice
Shoreline Periodontics is a periodontal practice offering personalized dental care for patients since 1998 and is located in New London, CT and Westerly, RI. Leading periodontist, Dr. Gregory A. Toback, received his B.A. from St. John's University and his Doctorate of Dental Medicine from the University of Connecticut. He also received advanced training in periodontics and dental implants at the University of Texas Health Science Center in San Antonio. Dr. Toback focuses on minimally invasive surgeries, offering the LANAP® protocol and belongs to a small group of dental professionals currently providing the Chao Pinhole Surgical Technique™ for treatment of gum recession. Dr. Marianne Urbanski has been voted one of Connecticut's top dentists for more than seven years by Connecticut Magazine. Dr. Urbanski graduated cum laude from the College of Holy Cross in Worcester, Massachusetts where she earned a Bachelors' degree in Biology. She also received her Doctor of Dental Medicine degree and her Masters' of Dental Science degree from the University of Connecticut Dental School. Dr. Urbanski prides herself on offering caring, professional care to each patient. To learn more about Shoreline Periodontics and their dental services visit their website at http://www.shorelineperio.com or call (860) 333-1531 for the New London, CT location, or (401) 622-4661 for the Westerly, RI office.