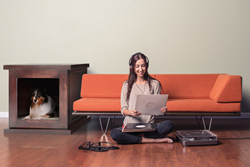 Fort Lauderdale, FL (PRWEB) August 30, 2016
In light of the highly-anticipated Kickstarter campaign, PNP Robotics, a Florida-based startup, is officially announcing that their ZENCRATE, an intelligent anti-anxiety dog den, will be manufactured in the US. By manufacturing in the US, PNP Robotics can deliver high-quality dog dens to their customers quickly while supporting the economy.
The founders of PNP Robotics not only believe in the exceptional craftsmanship of US workers, but they also believe in giving back to their community. As such, PNP Robotics will manufacturer their dog crates in South Florida. The team's commitment to the area will help create new jobs for Florida residents in and around South Florida and it will also help the local economy.
The ZENCRATE is set to launch today, August 30th, 2016 at noon on Kickstarter. The team at PNP Robotics encourages everyone to take advantage of early bird promotions available on Kickstarter. Dog owners who purchase their ZENCRATE during the Kickstarter campaign are eligible to receive one of two following promotions:
The Super Early Adopter Special saves dog owners $100 off the retail price of their intelligent dog crate. A pledge of only $349 secures their ZENCRATE.
The Early Adopter Special saves pet owners $70 off the retail price of their ZENCRATE. A pledge of only $379 ensures that these dog owners will have the intelligent dog den for their dogs.
These two promotions have limited availability and backers are encouraged to get in on the action early. There are several more tier rewards available, including the ability to purchase only the memory foam orthopedic dog bed, and also 2, 3, and 4-packs for huge savings. Once the Kickstarter campaign is over, the ZENCRATE can be available for approximately $449, the full retail price of the dog den. Dog owners can improve their chances of locking in the discounted rates by taking advantage of the promotion once the Kickstarter campaign becomes live.
ZENCRATE is an anti-anxiety dog crate that leverages technology and homeopathic solutions to soothe dogs. The elegantly designed crate is the epitome of years of research on dog anxieties. The geometric design of the ZENCRATE and the motion-activated music work harmoniously to calm dogs immediately once they enter the dog den. Additionally, the vibration dampening feet prevent dogs from experiencing the traumatic booms and bangs of thunder and other loud noises that often trigger anxiety attacks in dogs.
About PNP Robotics: PNP Robotics is the startup behind the revolutionary ZENCRATE intelligent, anti-anxiety dog crate.
PNP Robotics
2901 West Cypress Creek Rd.
Suite 102
Ft. Lauderdale, FL 33309
Office: 954-532-7411
Media point of contact:
Carlos A. Espitia
Marketing & Business Consultant
561-322-8669
cespitia(at)adextechnologies(dot)com