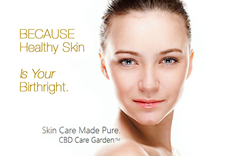 (PRWEB) August 31, 2016
More and more people are searching for the next big thing in skin care, and this new Denver-based company has found it. CBD Care Garden is bringing to light what used to be taboo -- cannabidiol (CBD) -- to develop natural & sustainable hemp-based products in their new high quality skin care line.
Because so many consumers are now demanding products that are all-natural, the trend towards hemp is becoming more widespread. Setting the standard, CBD Care Garden's line features products that are free of GMOs, pesticides, and parabens, while containing no artificial or synthetic ingredients. CBD Care Garden has released an anti-aging line, complete with an aluminum-free deodorant, body butter, and lip gloss.
These are just a few examples of the array of healthy plant-based products this company is becoming known for.
To celebrate the launch of their skin care line, CBD Care Garden recently threw a Pre-Launch White Party where attendees could be the first to purchase their products before they hit the market.
"We make pure skin care products, inspired by cutting edge technology; formulated with mindful practice and active ingredients made fresh by nature, because we know that feeling good is the starting point to living well," according to CEO Vanessa Marquez.
Look for CBD Care Garden's high-end skin care products to hit shelves at nearby retailers soon.