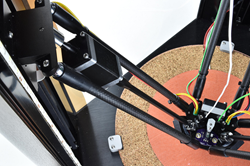 Radik Delta Direct Extruder (DDE) technology brings higher quality filament control on Delta printer
Woburn, MA (PRWEB) August 30, 2016
When a new type of 3D printing technology arises in this ever-growing industry, a shock wave of excitement penetrates the spines of all makers and enthusiasts. But, this excitable feeling is even more amplified when this new type of printing process actually enhances your production to industrial-level quality. That is exactly the case for DK Automations' new professional-grade desktop Radik Delta 3D Printer, the first-ever to utilize their unique patent-pending Delta Direct Extruder (DDE) technology.
DK Automations will be launching their newly developed Delta 3D printer on Indiegogo in the coming year, and in the meantime, is looking to build up their following through a pre-launch subscription program, which will keep followers engaged and informed on all new updates with the 3D printer and its forthcoming crowdfunding campaign. While most 3D printers on the market are Cartesian models, DK Automations has developed a Delta-style 3D printer that utilizes a very unique 'direct extruder' filament control system.
Although almost all Delta 3D printers out today use a Bowden extruder, which does provide a few major advantages, the Radik Delta 3D printer is the first to utilize this exact 'direct extruder', as DK Automations had patented the technology around a year ago. Since then, the Massachusetts-based startup has worked diligently to develop their new professional-grade desktop 3D printer, which is fully manufactured from high quality and sturdy CNC machined parts.
There are a number of advantages to using DK Automations' new patent-pending 3D printing technology. The Radik DDE printer forces less compression and expansion on the selected filament, which leads to better control over the material, as well as the retraction and extrusion settings. The patent-pending DDE technology causes no friction virtually between the filament and the all metal hot-end printer nozzle, leading to cleaner and more high quality prints.
"Mechanical and automation systems such as 3D printers were just like true loves to me, and that love has only been getting stronger," says Daniel Kurnianto, the founder and owner of DK Automations. "Along the way I've learned that 3D printers can be engineered cleverly while carefully putting the right design for manufacturing to be more reliable, cost effective, and easier to maintain. My biggest hope is that this knowledge and product helps others to print high-quality parts for their businesses."
The printer is equipped with an all-metal printhead, which is capable of reaching temperature of up to 300 °C, and also utilizes an open-source filament system, allowing users to print using any ABS, PLA, Nylon, or PVA material that they wish to use. The build volume of the printer is 180mm x 150mm, while the printer's enclosure offers a temperature controlled chamber that allows the user to maintain humidity and optimize their print quality.
The Radik 3D printer was designed with modularity in mind, coming in four easy-to-build assemblies, including the vertical linear rail, electronic box, heated print bed, and printhead. This makes the industrial-grade 3D printer conveniently maintainable and maker friendly. DK Automations has engineered their Delta 3D printer to be compatible with open-source Marlin firmware, as well as the Simplify3D slicer software, giving users full control over the 3D printing system. According to DK Automations founder Daniel Kurnianto, the startup has already developed 2 fully functional prototype units, and are now gearing up for full-scale production through an upcoming Indiegogo crowdfunding campaign, which is scheduled to launch before the end of the year.
If you're looking to stay up-to-date with the crowdfunding launch of the Radik Delta 3D Printer and its new patent-pending DDE technology, subscribe to DK Automations' mailing list today!
Additional specifications for the Radik Delta 3D Printer:
● Dual Extrusion Nozzles
● FFF Technology
● Bed Leveling Assistance
● Nozzle size: 0.4mm
● Full Metal Nozzle
● Default Resolution: 150 microns
● Filament Diameter: 1.75mm
● Max nozzle temp.: 300°C
● Max bed temp.: 120°C
For more information, please contact Daniel Kurnianto at: info(at)dkautomations(dot)com
About DK Automations :
DK Automations is a 3D printing startup company located in Woburn, Massachusetts, that is obsessed with providing highest quality and most affordable product possible. Their patent-pending Delta Direct Extruder (DDE) technology is the first 'direct extruder' filament control system used for a Delta 3D printer model.