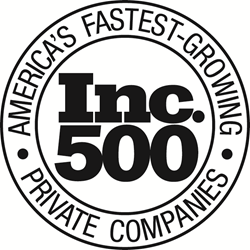 New York, NY (PRWEB) August 30, 2016
Inc. magazine today ranked Aspirent No. 307 on its 35th annual Inc. 5000, the most prestigious ranking of the nation's fastest-growing private companies. Aspirent also ranked No. 15 in Atlanta and No. 17 in Georgia based on sales growth. The list represents a unique look at the most successful companies within the American economy's most dynamic segment— its independent small businesses. Companies such as Microsoft, Dell, Domino's Pizza, Pandora, Timberland, LinkedIn, Yelp, Zillow, and many other well-known names gained their first national exposure as honorees of the Inc. 5000.
"Aspirent is extremely honored to be one of the Inc. 5000 Fastest-Growing Companies," says Andrew Wells, Founding Partner and CEO of Aspirent. "This designation underscores the value that we have delivered and the trusted relationships that we have developed through the hard work and expertise of our consultants. Our ability to provide a full suite of management and technology consulting services, from Data Science & Analytics to Business Architecture & Project Execution to Custom Development & Experience Design, has allowed us to cultivate deep partnerships with our clients and drive our rapid growth."
The 2016 Inc. 5000, unveiled online at Inc.com and with the top 500 companies featured in the September issue of Inc. is the most competitive crop in the list's history. The average company on the list achieved a mind-boggling three-year growth of 433%. The Inc. 5000's aggregate revenue is $200 billion, and the companies on the list collectively generated 640,000 jobs over the past three years, or about 8% of all jobs created in the entire economy during that period. Complete results of the Inc. 5000, including company profiles and an interactive database that can be sorted by industry, region, and other criteria, can be found at http://www.inc.com/inc5000.
"The Inc. 5000 list stands out where it really counts," says Inc. President and Editor-In-Chief Eric Schurenberg. "It honors real achievement by a founder or a team of them. No one makes the Inc. 5000 without building something great – usually from scratch. That's one of the hardest things to do in business, as every company founder knows. But without it, free enterprise fails."
The annual Inc. 5000 event honoring all the companies on the list will be held from October 18 through 20, in San Antonio, TX.
About Aspirent
Aspirent is an employee-owned, local-model, management and execution-consulting firm, focused on helping companies to gain a competitive advantage with their data resources. Our practice areas include Data Science & Analytics, Management Consulting & Strategy, Business Architecture & Project Execution, Information Management, and Application Development & Experience Design. We work with clients in diverse industries, and employ only top talent, giving them a personal stake in our firm's success. We Aspire to transform the way professional services are delivered.