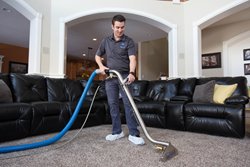 "We are delighted with the commitment that our franchise owners have to superior cleaning and superior customer service, said Arnold.
Salt Lake City, Utah (PRWEB) August 30, 2016
By early August this year, the Zerorez® organization logged 65,000 customer reviews system-wide in 2016, via the Listen360 Reviews System, a daily survey program used by all its franchise owners. What is more impressive is that 89% of the reviews represent a customer review "score" of a 9 or 10 (out of 10.)
This Reviews Program has been in-place at Zerorez® for over 4 years and has helped the the organization measure and achieve its continuing goal of superior service. "We feel that it is important to ask our customers for their feedback and then to use that feedback to constantly strive to provide the best service and best cleaning results possible," said Richard Arnold, Chief Operating Officer for Zerorez®. "We work really hard to get our customers to become 'Raving Fans.'"
Michael Kaplan, co-owner of Zerorez franchises in Minneapolis, Omaha, Pittsburg, St. Louis and Savannah, recently said, "What sets us apart is our people, our process and our promise. We have an amazing service-focused team. We have a proprietary, green cleaning system that provides first-rate cleaning results without using toxic cleaning chemicals. And, our Gotta Love It Guarantee® will make sure everyone is happy."
Arnold added, "It is really gratifying to see positive comments that demonstrate the positive combination of a service and a cleaning process that really works: For example, Judy in Spokane said, "Our carpets look beautiful! They were extremely dirty, and your team, who were very friendly and helpful, worked very hard to make them look like new!" And another: Alison in Massachusetts said: "In about 45 minutes, my loveseat, oversized chair, and ottoman look new. The empowered water is safe for the pups and the freshness lasts so I know it's a deep clean." "There are thousands more reviews like these," said Arnold. "It makes us very happy to deliver such happiness to our customers!"
The Reviews Program asks customers to review each service and their ratings are immediately available to franchise owners to use the information to guide and motivate their employees' daily service. Each year, the franchise owners with the highest overall Reviews Program scores are given prestigious awards at the company's annual owners conference.
Zerorez® has distinguished itself from other carpet cleaning companies by appealing particularly to female home owners that want to treat their homes with great care and superb cleaning and provide safer living environments for their families. The eco-conscious customer really responds to Zerorez' green cleaning system and the Zero Residue® cleaning commitment which means that its technicians clean carpets and surfaces thoroughly without leaving behind any soil-attracting residue, so the carpets and surfaces stay cleaner longer.
Zerorez® launched in 2001 when the owners set out to change the carpet cleaning industry. Their idea to truly clean carpets without using harsh or toxic chemicals has proven to be a needed and appealing change in the industry.
Zerorez Franchising Systems, Inc.'s corporate offices are in metro Salt Lake City, UT. In recognition of Zerorez®'s cleaning efficacy, the Carpet and Rug Institute (CRI) has awarded Zerorez® its Platinum Rating, the industry's highest rating.
To learn more about the Zerorez® carpet cleaning franchise opportunity, or to apply to become a territory owner, visit http://www.zerorezfranchise.com. Further details on the company and its services are found at http://www.zerorez.com.