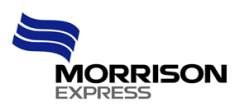 El Segundo, CA (PRWEB) August 30, 2016
Morrison Express, a leading, global logistics, transportation and supply chain management provider, announced the launch of a new service at the cargo-only Rickenbacker International Airport (LCK) in Lockbourne, Ohio. Located just 10 miles from downtown Columbus, the LCK facility serves as a central hub for many of fashion, electronics, and retail's biggest names.
"When it comes to freight, turnaround time is everything, and both our clients and airline partners rely on seamless and expedited processes. Rickenbacker is an optimal distribution location for many global brands, and our ability to service their needs was a driving factor in partnering with the CFS facility there," said Tony Medeiros, Vice President and General Manager of the Americas for Morrison Express. "This 90,000 sq. ft. container freight station, combined with our customized solutions, delivers a competitive advantage for our clients' importing and exporting needs," Medeiros added.
LCK's strategic location allows for more timely and cost-effective distribution and is able to reach over 70% of the US and Canadian population within 2 days via standard LTL truck service. Morrison Express airline partners Cathay Pacific, Emirates, and Cargolux are now making multiple 100-ton flights per week directly in and out of Rickenbacker International Airport, bypassing traditional gateways such as New York or Chicago.
Chris Chespak, Director of Marketing, said "We are achieving maximum efficiency and reducing turnaround time for landing, unloading, handling, and distribution. By adding this CFS service offering at LCK to our global portfolio, we are pleased to offer our clients other competitive options into and out of the US market."
To learn more about Morrison Express and its global logistics services, supply chain solutions, and industry expertise, please visit http://www.morrisonexpress.com.
About Morrison Express:
With a network of more than 300 company and agent offices across five continents, the Morrison Team strives to provide clients with exceptional service and solutions to help them succeed in today's challenging business environment. Morrison Express delivers value to its clients with The Power to Move and The Passion to Deliver.
Morrison Express Media Contact:
Chris Chespak
Director of Marketing
+1 310.322.8999