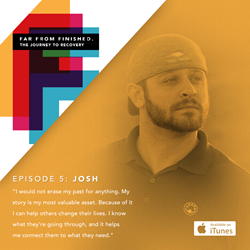 Brentwood, TN (PRWEB) August 31, 2016
At a time when our nation is facing a drug epidemic and drug overdose is the leading cause of accidental death in the United States, American Addiction Centers is on a mission to spread a message of hope for those suffering with the disease of addiction. Every week on its new podcast, Far From Finished, someone in recovery shares their story of triumph.
Josh Zeises was among the first to share his story. As the National Alumni Manager for American Addiction Centers, he knows first-hand the power of a testimony. From revealing the details of the suicide letter he wrote moments before taking a potentially lethal dose of heroin, to sharing the joy he has found through recovery and starting a family, nothing was off limits in his episode.
"I share my story because it is the greatest asset I have," said Josh. "My story allows me to connect with those still struggling and shines light on the negative stigmas surrounding addiction. It also gives them a chance to receive a message of hope just like I did, and start the path to a new life."
So far, there are 12 episodes available on Far From Finished with a new one added every Monday. In honor of International Overdose Awareness Day on August 31 and the start of National Recovery Month September 1, American Addiction Centers is encouraging the public to share the podcast with their loved ones.
"Hope is sometimes the only thing that we have," said Alumni Coordinator Nicole Vasquez who is four and half years sober. Her episode is scheduled for release in September. "I never know who needs to hear that someone just like me can find a solution. That's why this podcast is so important."
To learn more about the podcast or to share a story, visit http://www.FarFromFinished.us. The podcast is also available on iTunes. For other news and updates during National Recovery Month, follow the hashtag #aacrecovery30
About American Addiction Centers
American Addiction Centers is a leading provider of inpatient and outpatient substance abuse treatment services. We treat clients who are struggling with drug addiction, alcohol addiction, and co-occurring mental/behavioral health issues. We currently operate substance abuse treatment facilities located throughout the United States. These facilities are focused on delivering effective clinical care and treatment solutions. For more information, please find us at AmericanAddictionCenters.org or follow us on Twitter @AAC_Tweet.