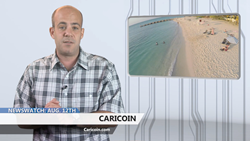 "We were very excited to feature Caricoin on NewsWatch. Their technology is going to revolutionize the Caribbean." – Andrew Tropeano, Executive Producer
(PRWEB) August 30, 2016
Caricoin Ltd., a Fintech startup based in Kingston, Jamaica, was recently selected by NewsWatch TV for a special feature highlighting their mission to bring a zero-cost mobile money platform to the people of the Caribbean.
The show aired on Friday 12th August 2016 on Newswatch TV on Discovery Channel and was chosen from among thousands of potential features. With an extended reach into over 96 million households in 210 markets, the airing marked the first time in history that a Jamaican technology company has received this level of media attention.
You can find out more about the feature at
http://newswatchtv.com/2016/08/12/newswatch-discovery-channel-app-watch-caricoin/
Or view the video on YouTube at
https://www.youtube.com/watch?v=xQ_l8lR8RIU
"We were very excited to feature Caricoin on NewsWatch. Their technology is going to revolutionize the Caribbean." – Andrew Tropeano, Executive Producer
Caricoin's mission is to leverage emerging technologies to help the region's underprivileged gain access to the global banking system. Currently, about half of its population doesn't own a bank account due to a variety of issues including security concerns, the time it takes to set up an account, and high travel costs, resulting in a banking system still largely inaccessible to many.
Even more importantly, it's very expensive to send and receive money in the Caribbean. So expensive in fact that the fees associated with remittances –a critical source of foreign exchange for the region– now stand at app. US$800 million annually. [1] Caricoin's bitcoin wallet is aiming to eliminate these obstacles by delivering a quick, safe and easily accessible alternative to traditional banking.
Karsten Becker, CEO of Caricoin Ltd., hasn't lost sight of the deeper meaning behind the choice: "By selecting our wallet for this special feature, NewsWatch has effectively joined the movement to improve the lives of Caribbean people by providing our socially transformative app with unprecedented international exposure."
About NewsWatch
NewsWatch is a weekly 30-minute consumer oriented television show that airs on the Discovery Channel and ION Network. NewsWatch regularly features top technology products and services, mobile applications for iOS, Android, and Windows devices, unique and beautiful travel destinations around the world, health and medical tips, and entertainment interviews on the show. NewsWatch airs on the Discovery Channel at 7:00 – 7:30 AM ET/PT.
NewsWatch is located in the greater Washington, DC area and has been on air for over 25 years. For more information or to watch the most recent episode, visit http://newswatchtv.com.
About Caricoin
Caricoin Ltd is a UK-based company with development offices in Kingston, Jamaica. It is focused on transforming the Caribbean's economy by delivering a secure, user-friendly and less costly way of storing wealth and moving it around. To learn more and to install the Caricoin wallet on your device now, visit http://www.caricoin.com.
[1] Taken from the World Bank Migration and Remittances Brief, Oct 2015