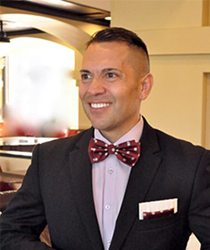 "I am eternally grateful to UT-Austin and McCombs for unlocking the most precious doors of opportunity and access."
Austin, Texas (PRWEB) August 30, 2016
Mark Madrid, the CEO of the Greater Austin Hispanic Chamber of Commerce was selected as a BBA (Bachelor of Business Administration) Star of UT Austin's McCombs School of Business, during the school's centennial year celebration.
Madrid received his BBA in 1995, graduating with Honors and the distinction of being named an Endowed Presidential Scholar. He subsequently pursued a Masters in Nonprofit Administration from the University of Notre Dame Mendoza College of Business, from which he graduated Cum Laude in 2015. His numerous awards include the Rev. Theodore M. Hesburgh's CSF Founder's Award for integrity and character aligned with the school's philosophies, which he received last May when he graduated from Notre Dame. Madrid carries the award with him daily, as well as his Jefferson Award coin for community and public service. At all times, these two items, in his own words, "remind me, on tough days, that our greatest sense of being is delivering integrity and paying it forward."
Madrid has a stellar career in public service, involved in projects that create actionable initiatives to improve the lives of his community. Last year, Austin Mayor Steve Adler appointed Madrid as Honorary Co-Chair of the Greater Austin Area My Brother's Keeper (MBK) Initiative. President Obama launched the My Brother's Keeper platform to address persistent opportunity gaps faced by boys and young men of color and ensure that all young people can reach their full potential. Perhaps, most importantly, following his commitment to service and community, Mr. Madrid created the Mark L. Madrid Scholarships for deserving business majors at the University of Texas at Austin and the University of Notre Dame.
He credits his alma mater, the UT-Austin McCombs School of Business, for giving him the tools and inspiration to dedicate his career, life and passion to business and public service. In his own words: "All of my trajectory has been and always will be traced back to the University of Texas at Austin and the McCombs School of Business. They are profound catalysts and dynamic inspirations that continue to change the world.  The world-class McCombs education gave me the capability to excel in the corporate, nonprofit and entrepreneurial sectors.  I am eternally grateful to UT-Austin and McCombs for unlocking the most precious doors of opportunity and access. Hook 'Em!"
For more information on the BBA Stars: https://bba100.mccombs.utexas.edu/bba-stars/
For more information on Mark Madrid's BBA Star profile: https://bba100.mccombs.utexas.edu/bba-star/mark-l-madrid/
Learn more about UT Austin's McCombs School of Business and its history: https://bba100.mccombs.utexas.edu/our-legacy/bba-timeline/
About the Greater Austin Hispanic Chamber of Commerce: http://www.gahcc.org