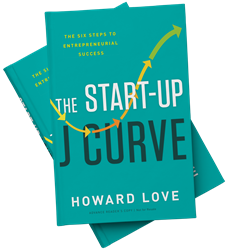 "…an invaluable framework for understanding where you are with your startup and how to progress to success." – Pete Flint, Co-Founder of Trulia
BURLINGAME, CA (PRWEB) August 30, 2016
Silicon Valley serial entrepreneur, LoveToKnow CEO and angel investor Howard Love (HotelTonight, GigaOm, FlexJobs, Liftopia) has successfully launched 15 businesses and invested in 50+ others - with dozens of successful exits.
"The Start-Up J Curve: The Six Steps to Entrepreneurial Success" (August 30, Greenleaf Book Group) summarizes what Howard has learned the hard way. He wrote it to give entrepreneurs the tools they need to get through the toughest times so they can reach the primary value creation that lies beyond.
In "The Start-Up J Curve", readers will discover:

Where you are in the process from start to IPO and what to do next
How to use focus to save yourself time and money
How to adapt your original idea into a successful product
The different types of CEOs and how to consider your leadership place in the world
How to increase your odds of success, and much, much more!
A free Perfect Pitch Deck is available to help all entrepreneurs on their path to success at http://www.howardlove.com!
Recent media clips:
MSNBC Your Business here.
Yahoo! Finance here
This summer Howard has spoken to entrepreneurs at Capital Factory Austin, TechStars Austin, Plug & Play TC Sunnyvale, and Start-Up Grind Chapters in Las Vegas, Austin & Houston. (Clip here.)
Book Praise
"I've been lucky to collaborate with Howard as an investor, advisor and co-founder - he's made me a better entrepreneur, and by reading this book, he'll make you one too." – Sam Shank, CEO, Hotel Tonight
"I highly recommend this book to entrepreneurs who want to make their own unique mistakes, rather than repeating the mistakes of others." – Bill Ericson, General Partner Mohr Davidow
"…an invaluable framework for understanding where you are with your startup and how to progress to success." – Pete Flint, Co-Founder of Trulia
"…fuel to accelerate up the curve to success." - Larry Marcus, Managing Director, Walden Venture Capital & Founding investor in Pandora.
About LoveToKnow Corp
LoveToKnow Corp. is an online media company dedicated to providing trustworthy advice, information and products for families. The company's media properties include lovetoknow.com, yourdictionary.com, golflink.com, trails.com and a number of other smaller sites.