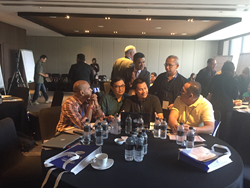 Innovaacom's grant writing course helps physicians better understand the strategic policies that motivate funding bodies to make awards.
Atlanta, Georgia (PRWEB) August 31, 2016
So you've got a great research idea that might even lead to a medical breakthrough or new health innovation, but there's just one problem. You can't find funding for the project. It's a common predicament many physicians and scientists face today. Medical grant approval is highly competitive with 79% of grant submissions rejected in the U.S. and up to 83% declined in the U.K. according to a 2012 study conducted by the National Institute for Health.
Now, help is here. Innovaacom, a leading provider of medical education and professional development curriculum for healthcare professionals worldwide, is empowering doctors to improve their success in winning research project funding with an innovative program in grant writing. "Innovaacom is committed to helping remove the financial and cultural barriers to global medical discovery and scientific exchange. We are excited to share that our grant writing programs are significantly improving submission success for our program attendees," said Ornella Vincenzino, President and Founder of Innovaacom.
In a recent poll of nearly 1,000 physicians, who attended Innovaacom professional development programs, 28% reported they have increased their grant acceptance rate with national funding bodies and 22% have had increased acceptance with international funding bodies. The survey was completed by physicians from diverse specialties and areas of the world including Central Europe, the United Kingdom, the United Arab Emirates and Asia. Though the quantity and size of new awards has been decreasing in the U.K. in recent years, the average research project grant award today is around $441,400.
Innovaacom's grant writing course helps physicians better understand the strategic policies that motivate funding bodies to make awards. They also learn the mechanics of grant writing and how to position their request so that it stands out from the crowd. Other Innovaacom career advancement training offerings include crafting winning manuscripts and abstracts, and best practices in designing and developing scientific oral presentations and posters.
Innovaacom partners with industry leaders to provide physicians with global access to continuing education programs that prepare them for tomorrow's challenges in medicine. To date nearly 11,000 physicians, pharmacists and nurses in more than 60 countries from across Europe, Asia, Latin America, Africa, China and the Middle East have benefited from the training that positively impacts clinical practice and public health policy. For more information, visit http://www.innovaacom.com.
About Innovaacom
Innovaacom is a global agency providing medical education and training for healthcare professionals in any language anywhere in the world. Headquartered in Rome, Italy, Innovaacom also operates strategic hubs in the U.K., U.S., U.A.E and New Zealand. A preferred medical education provider to some of the world's largest pharmaceutical companies, Innovaacom's training programs combine science with leadership and communications skills training. Program design and delivery includes CME and non-CME training programs for physicians, community pharmacists, and nurses that enhance the quality of scientific exchange to advance science and medicine.