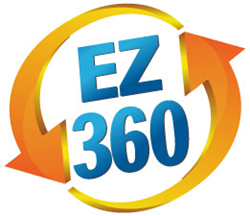 "EZ360 has proven to be a very reliable, efficient system. Our single photographer, along with CopyContent, now achieves inventory photo coverage of 95%." -Lawrence Curry, Internet Director at Honda Cars of Rockwall
Dallas, TX (PRWEB) April 09, 2016
SiSTeR Technologies announced today the release of CopyContent to their free-of-charge iContent platform.
CopyContent and iContent are part of the EZ360 media platform for automotive dealers that produces vehicle pictures, interior 360˚ panoramic tours, exterior 360˚ spins and video that captures online buyers' attention faster, engages them longer, and converts to sales more often.
CopyContent eliminates the need to take actual pictures for more than 60% of new inventory, eliminates the use of stock photos and improves advertising return on investment by up to 500%.
Automotive dealers know that vehicles without actual pictures on search result pages (SRPs) receive 80% fewer customer clickthroughs to the vehicle details page (VDP) than listings showing actual vehicle pictures. In other words, dealer websites need five times more visitors – costing five times more money – to market vehicles without actual pictures.
The practice in the industry is to display stock photos online when actual vehicle pictures are not available. But consumers are oblivious to such listings because stock photos often do not represent the paint color, trim and features of a vehicle.
CopyContent is a simple, ingenious solution to this problem and SiSTeR Technologies offers it free to EZ360 subscribers.
Most wholesale purchases of new cars are in bulk and many vehicles have matching color, trim and features. In fact, it is 60% likely that multiple vehicles of the same year, make, model, color and trim pass through a dealer's inventory. For larger dealerships this probability exceeds 80%.
CopyContent allows car dealers to create templates of media content from existing vehicles then apply the content to matching vehicles. CopyContent templates may contain all or some of the pictures, video and rich media stored in the EZ360 system.
When a dealership purchases new vehicles the eCommerce manager or photographer simply applies the media content of a previous vehicle to the new ones that match. With just one click EZ360 does all the work.
"When we developed CopyContent, following our clients request, we expected the applicability ratio to be in the neighborhood of 30-40%," said Israel Alpert, founder and president of SiSTeR Technologies. "But practical use shows that in many cases, the applicability ratio exceeds 60%!"
Honda Cars of Rockwall in nearby Rockwall, TX, was one on the earliest clients of EZ360. Previously the dealership had inventory photo coverage of about 70%, the industry standard for new and used inventory.
"EZ360 provided us with a complete solution of a photo booth, turntable and software at an affordable flat monthly fee," said Lawrence Curry, Internet Director at Honda Cars of Rockwall. "EZ360 has proven to be a very reliable, efficient system. Our single photographer, along with CopyContent, now achieves inventory photo coverage of 95%."
"All of this would not be possible without our dedicated clients, partners and our exciting, talented and innovative team," said Mr. Alpert. "Today I am glad to make available our iContent system to any auto dealer that wants to enjoy the benefits of real-time publication, automated photo bannering and branding and instant editing free of charge, forever."
Mr. Alpert also commented that publishing consistency and real-time reporting are important benefits of the EZ360 platform.
"New vehicle dealers who choose to use the CopyContent module, too, will enjoy an ROI exceeding five times!" Mr. Alpert said.
About EZ360
EZ360, a division of SiSTeR Technologies, provides turnkey solutions to auto dealers for automatically capturing vehicle pictures and rich media. The EZ360 suite of products includes photo booths, turntables, lighting, control systems, an Android app called PixZero, a content management system for instant cloud-based online publication.
About Honda Cars of Rockwall
Honda Cars of Rockwall is the newest member of the John Eagle Auto Group and one of the newest Honda dealers in Texas. The dealership opened in January 2014 in a beautiful state of the art facility which now boasts a Registered Silver LEED Certification. Honda Cars of Rockwall uses cutting-edge technology to better serve its customers, clients and the car buying public in general.
Contact EZ360
Israel Alpert, President
oalpert(at)sister(dot)tv or 214.325.1665
Contact Honda Cars of Rockwall
Lawrence Curry, Internet Director
lawrencec(at)hondacarsofrockwall(dot)com or 469.402.3900