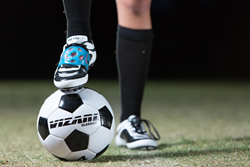 The company hopes to help improve young players' technique and strength while emphasizing having fun.
San Clemente, CA (PRWEB) August 30, 2016
The SockIt, a California-based soccer company, recently announced its new wearable technology that promises real results for soccer players looking to improve kicking accuracy and power. The company hopes to help improve young players' technique and strength while emphasizing having fun. The device, invented by a father of two soccer players, slips around soccer cleats and lights up when players kick correctly.
"After watching my daughters and their teammates continually hit the ball with their toes in practice, I went out to look for some kind of device that could help train them to instead kick on the top of their shoes," said Joe Briganti, SockIt founder and CEO. "I didn't find anything in stores and saw this as a great opportunity to show my daughters a little about business and making an idea a reality."
The SockIt is made from industrial strength thermal plastic rubber and is able to withstand shock, impact, and other extreme conditions. The light-up function is made possible by six LEDs powered with a replaceable lithium battery. The one-size-fits-all device is designed for players 5-12 years old.
Early users are giving the device rave reviews. "I am a former college soccer player and current coach," said one reviewer. "I highly recommend this product. It encourages a good strike and will let you know once you've achieved that with its lights. I have purchased three for my kids and let me tell you that they love the SockIt...It is perfect for the beginners and works excellent for those intermediate players as it reminds them of how and where the ball needs to be struck."
The SockIt also has a charitable, giving-back business model. For every unit sold, The SockIt donates a portion of the revenue back to St. Jude's Children's Hospital. The company also donated product to the hospital and provides soccer scholarships for underprivileged children who need help paying for their soccer fees.
The SockIt is currently available for purchase on Amazon and http://www.thesockit.com. For more information, please visit http://www.thesockit.com or email joe(at)thesockit(dot)com.
The SockIt is a soccer company based in San Clemente, California. The SockIt wearable tech training device builds confidence, encourages players to practice more, improves foot-eye coordination, creates dialogue between players, parents, and coaches, and, most importantly, reinforces fun. The SockIt's light-up feature helps young soccer players immediately understand the feeling of a solid strike in real time. Visit thesockit.com for more information.