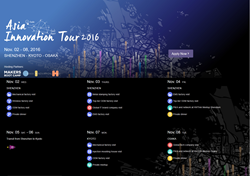 "One of my favorite things about visiting Beijing and Shenzhen on the Asian Innovation Tour was the access to a lot of thought leadership, in both manufacturing, PCB design, and entrepreneurship" - Josh Rasmussen, CEO of Bolt Motorbikes
Osaka, Japan (PRWEB) August 31, 2016
HWTrek (Hardware Trek), the global open innovation platform for hardware creation, is now accepting applications for its Asia Innovation Tour, the 4th since 2014, taking place November 2-8. The HWTrek Asia Innovation Tour 2016 is an exclusive event designed to connect innovators from around the world. Participants will journey to the heart of Japanese high-tech and precision manufacturing, Kyoto and Osaka, and China's Silicon Valley, Shenzhen, to learn the art of production from the masters. Tour participants will visit manufacturing facilities that usually are closely guarded, discuss hardware development processes with leading manufacturers, gain valuable marketing insights to enter Asian markets, and will have the chance to attend exclusive networking events with professionals from top-tier companies in manufacturing and distribution channels.
"Osaka Innovation Hub supports entrepreneurs aiming to commercialize technology," said Masao Nagakawa, Chief Producer of Osaka Innovation Hub. "Meanwhile, Osaka has a cluster of manufacturing companies and a network of companies with advanced technologies. We hope that a new kind of movement regarding manufacturing will emerge by combining those companies and the hardware startup network of HWTrek."
On this trek, a journey to the intersection of innovation and technology, industry expert partners from the manufacturing, supply chain, and retail sectors will share their experience, technology, and knowledge with hardware startups and creators. Participants on the tour will have the opportunity to:

Explore the hearts of manufacturing in Japan and China.
Meet hundreds of industry experts and demo their project in meetups in Osaka and Shenzhen.
Get first-hand insights from tier-one supply chain experts: get access to the latest manufacturing technology, processes, and assembly-line walkthroughs to understand how product quality consistency is achieved.
Gain insights on the markets of Japan and China from leading companies.
An optional extension trip to Taipei, the hometown of ODMs for world leading brands.
The thought-provoking discussions that sprout along the journey will help the participants plan for product development and beyond.
"One of my favorite things about visiting Beijing and Shenzhen on the Asian Innovation Tour was the access to a lot of thought leadership, in both manufacturing, PCB design, and entrepreneurship," said Josh Rasmussen, CEO of Bolt Motorbikes. "That is one thing that is really hard to come by when you are stuck in an office for seven days a week. So, getting access to all those people from all around the world is absolutely invaluable in the growth projection that we have for our organization throughout the world."
To apply for HWTrek's Asia Innovation Tour 2016, register as a creator and create a hardware project on the HWTrek platform. Applicants must meet the following criteria for consideration:

Your company has already launched a product or service onto the market;
Your company has been in operation for at least three years;
You have a completed Project page on HWTrek in either Expert or Private mode.
The deadline for the application is September 30, 2016. More information about the tour is available at https://www.hwtrek.com/events/asia_innovation_tour_2016-q4/.
"I've launched multiple consumer electronics products in the market and I know how incredibly difficult it is to find the right manufacturers and suppliers here that are high quality and that meet the reliability standards," stated Arun Buduri, Founder and Chief Product Officer of WatchRx. "I've been working with HWTrek for six months now—a fantastic experience so far to get connected to the right suppliers through the platform."
HWTrek is committed to supporting hardware creators at all stages of project development to assist them to connect with the resources they need to design, build, and bring their Internet of Things hardware innovations to market. Asia Innovation Tour is specially designed for hardware creators who are ready to prepare for mass production, or outsourcing a sideline of products as an expression of the power of seamless online-to-offline collaboration that is rewiring the making of smart things in the global centers of manufacturing.
"We look forward to meeting the innovative global projects on HWTrek's Asia Innovation Tour with whom we hope to collaborate and contribute to and at the same time further develop our own technologies," said Junko Ikawa, coordinator at the Ota City Industrial Promotion Organization. "3,500 companies – with excellent technologies – in Ota City have survived a long recession in Japan. It is our priority to explore innovation in new areas."
HWTrek's collaborative cloud-based platform is the first global, complete end-to-end hardware development ecosystem—a one-stop shop—for IoT hardware innovators working to manage their product development, connect with manufacturing and supply chain industry experts, and bring their connected device projects to market. HWTrek now connects more than 7,000 hardware creators that have created 2,000 projects on the platform to 1,500 trusted manufacturing and supply chain industry experts from Shenzhen, Taiwan, and Japan to rest of the world—from tier 1 ODMs to small, skilled design houses—who have developed unique programs to assist the creators in pilot production. More than 3,000 inquiries have been successfully bridged with manufacturers and other experts.
"HWTrek enables manufacturers like us to build close connections with hardware creators and together we are able to accelerate productization of innovative projects," said Kwok Tsun, Technical Sales at Huaqiang PCB. Through the bridge of the HWTrek platform, we have connected with many creators and learned about their project requirements. HWTrek brought us good market opportunities and introduced us to the latest global product trends. HWTrek provides a new way to connect China's domestic manufacturers with overseas creators and together we aim to provide more quality services to creators."
Tweet this:
Enter heart of #manufacturing, learn the art of production from the masters in China & Japan @HWTrek #HWtour Nov 2-8 https://www.hwtrek.com/events/asia_innovation_tour_2016-q4/?pr
About HWTrek (Hardware Trek)
HWTrek is a unique ecosystem where hardware Creators and industry Experts meet and create smart hardware for the future, based in Taiwan and Shenzhen. HWTrek simplifies the hardware creation process by providing online planning and team collaboration tools and direct access to quality manufacturers and industry experts. Learn more about HWTrek: http://www.hwtrek.com or follow @HWTrek.
Contact:
William Andrew Albano, HWTrek
Tel: +886-2-2769-1698 | +886-2-2742-3301
Email: william.albano(at)hwtrek(dot)com
Skype: william.andrew.albano
WeChat: niubi_88