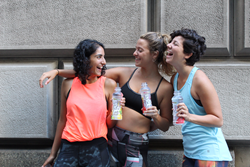 NEW YORK, NY (PRWEB) September 01, 2016
Agua Brands is the official beverage sponsor for all Pop Up Yoga NYC series programming. The decision for the collaboration was a natural fit as both brands continue in their efforts to provide the marketplace with fun and creative curated experiences around New York City.
The DNA of Agua Brands is hydration, a key component needed for muscles and organs to function at its best. Its reinvented beverages are formulated for the "water-bored" consumer, delivering functionality that encourages people to hydrate by enjoying the taste of water.
"Today's consumers are both educated and health conscious. They are looking for better for you hydration that also provides benefits like energy and electrolytes to support their everyday lifestyle," Agua Brands Founder Carol Dollard says. "Too many functional products have underestimated the importance of taste. Agua Brands recognizes this, and has succeeded in creating products that not only meet consumer needs for hydration and other benefits, but are products that consumers reach for day after day because of the great taste. We are proud to enter into a partnership with Pop Up Yoga NYC, a brand that is also reinventing the way people look at health through pioneering themed yoga programs in non-traditional locations for fun, healthy living work-out experiences."
A leader in the urban wellness landscape, Pop Up Yoga NYC launched in 2013 and continues to see its movement gain traction. Programming efforts are growing substantially in 2016, allowing a larger audience the ability to practice yoga in more innovative urban environments. Pop Up Yoga NYC has also partnered with the Sound Off Experience, a production company using wireless headphone technology, adding a new and exciting element to the event atmosphere.
"We are very excited to be partnering with Agua Brands for 2016. This year, our events schedule will showcase a wide range of programming from outdoor festivals, surf/SUP, luxury hotels, helipads, rooftops and more," says Angelica Olstad, Founder of Pop Up Yoga NYC. "It was important to partner with a beverage company that not only promotes healthy living but will provide real value to our events. Agua's functionality and electrolyte infused waters was a huge selling point especially when we were planning for our large scale outdoor events. We could not be happier to be involved with this rising beverage company."
Pop Up Yoga NYC and Agua Brands will be presenting Salute, a new kind of health party showcasing NYC's top fitness studios, bodywork, and beauty services on September 8th in New York City. Modeled after popular morning dance parties, Salute aims to offer attendees a fully inclusive opportunity to experience New York's finest health and wellness brands. For more information please visit http://bit.ly/2aULRio
About Agua Brands
Agua Brands was launched by Founder Dr. Carol Dollard, Ph.D., former Chief Operating Officer of Glacéau (vitaminwater), and former Glacéau CFO Michael Venuti, who serves as President. Dr. Dollard played a primary role in the development creation and ultimate success of vitaminwater and, prior to that, oversaw worldwide ingredients and flavors at Pepsi-Cola. She and Venuti drew on their experience of enhanced waters and energy drinks to introduce a new beverage category offering maximum hydration for health-minded consumers. Both brands are available in select grocery stores, fresh markets and online at drinkagua.com. For more information, please visit http://www.drinkagua.com or follow Agua Brands at http://www.Facebook.com/drinkagua, http://www.instagram.com/drinkagua or on Twitter at http://www.twitter.com/drinkagua.
About Pop Up Yoga NYC
Pop Up Yoga NYC is a wellness initiative that brings yoga into urban spaces with live music, arts, food, and natural beauty products. Classes are offered anywhere from rooftops, parks, hotels, art galleries. These classes provide unique, curated, and fun health and wellness experiences for the general public. For more information please visit http://www.popupyoga-nyc.com
###
MEDIA CONTACT:
press(at)aguabrands(dot)com