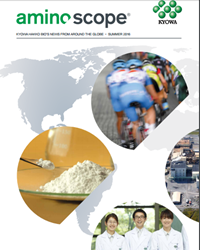 New York, NY (PRWEB) August 30, 2016
Kyowa Hakko Bio Co., Ltd. has just released their premier issue of AminoScope® — a new global magazine designed to keep employees and business associates informed of the important developments occurring throughout Kyowa's ever-expanding global network.
The first issue of AminoScope includes product updates including the latest published research on the combination of Kyowa's L-citrulline and Setria® Glutathione that shows great potential in the sports nutrition market. It also covers Kyowa's first-ever meeting focused exclusively on glutathione science that was held in Tokyo, Japan. Other topics covered include global regulatory updates on Kyowa products, as well as past and future tradeshow news.
Future issues of AminoScope will focus on activities and events from Kyowa's Japan office as well as news from their regional offices in North & South America, Europe, and Asia Pacific. Every issue of AminoScope will include important news relating to product development, research, manufacturing developments and employee updates.
The current issue of AminoScope is now available for downloading at http://kyowa-usa.com/uploads/pdfs/aminoscope_summer_2016.pdf
About Kyowa Hakko Bio Co., Ltd.
KYOWA HAKKO BIO employs leading-edge fermentation technology to develop innovative manufacturing processes for producing various useful substances and is offering ingredients ranging from amino acids, nucleic acid-related compounds, vitamins, organic acids to oligosaccharides and dipeptides globally to customers in the pharmaceutical, nutrition and healthcare markets. Our primary objective is to organically integrate fermentation and synthesis by fully leveraging the fundamental technological capabilities, human resources and assets we have developed and perfected since pioneering the method to manufacture Glutamic Acid by fermentation 60 years ago. For more information, visit http://www.kyowahakko-bio.co.jp/english/.
About Kyowa Hakko USA
Kyowa Hakko USA is the North & South American office for Kyowa Hakko Bio Co. Ltd., Kyowa is the maker of branded ingredients including Cognizin® Citicoline, Lumistor® L-Hydroxyproline, Pantesin® Pantethine, Setria® Glutathione, as well as Sustamine® L-Alanyl-L-Glutamine. For more information, visit http://www.kyowa-usa.com.
About Kyowa Hakko Europe
Kyowa Hakko Europe and Kyowa Hakko Bio Italia are the Central-North and South European sales office for Kyowa Hakko Bio Co. Ltd. For more information visit http://www.kyowa.eu or email bio-chemicals@kyowa.de or finechemicals@kyowa.it
About Kyowa Hakko Bio Singapore
Kyowa Hakko Bio Singapore Pte Ltd. is the Southeast Asia office for Kyowa Hakko Bio. For more information visit http://www.kyowahakko-bio.co.jp/english/ or email singapore@kyowa-asia.com