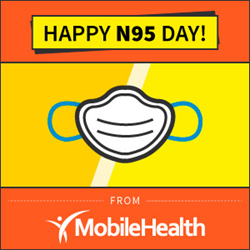 Mobile Health performs thousands of qualitative respirator fit tests annually for nurses and other workers that need to wear a respirator to stay safe.
New York, NY (PRWEB) August 31, 2016
New York based national occupational healthcare provider, Mobile Health, is partnering with the Centers of Disease Control and Prevention (CDC) and National Institute for Occupational Safety and Health (NIOSH) to celebrate N95 Day on September 6th 2016.
Referring to the filtering facepiece respirator, the N95 in N95 Day is used in a wide array of industries such as construction, healthcare, gardening, and more. Starting at the end of August, Mobile Health will celebrate N95 Day and the days preceding it by mounting social media awareness campaigns and making CDC and NIOSH resources available for download on the Mobile Health website.
Created in 2012 by the CDC and NIOSH, N95 Day is part of a wider initiative to help people recognize the importance of respiratory protection in the workplace. "Because N95 respirators are so important to the health and safety of workers in so many different industries, and because there is more to know about this personal protective device than just when to slap one on," NIOSH explains, "we have dedicated a day to the promotion, celebration, dissemination, and proclamation of N95 information."
Mobile Health's decision to observe N95 Day came as a natural progression from its ongoing efforts to support strong respirator policies in organizations across the United States. Mobile Health performs thousands of qualitative respirator fit tests annually for nurses, construction workers, and other laborers that need to wear a filtering facepiece respirator. As a key aspect of safe respirator policies, the respirator fit test is used to assure that workers can use a tight fitting respirator safely and comfortably.
Mobile Health is an occupational health provider specializing in employee screening and medical examinations for a wide variety of industries. They are headquartered in New York City, but offer medical services in 9 states nationwide. Most clients use Mobile Health as a main provider of pre-employment and annual exams as well as employee physicals, drug screens, tuberculosis testing, and other medical clearances required for employment. Organizations interested in learning more about N95 day can learn more on the CDC website.