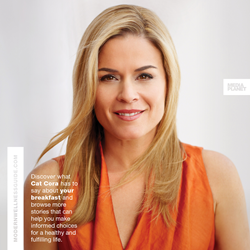 (PRWEB) August 30, 2016
The print component of "What's for Breakfast" is distributed within the Tuesday, August 30 regional circulation of USA Today, with a circulation of approximately 250,000 copies and an estimated readership of 750,000 within the New York, Los Angeles, Minneapolis, Chicago and DC/Baltimore markets. The digital component is distributed nationally, through a vast social media strategy, and across a network of top news sites and partner outlets. To explore the digital version of the campaign, click here.
In an effort to promote the healthy habit of eating breakfast each day, Mediaplanet is enlisting the help of BUSH'S Beans to provide breakfast options for readers, offering exciting recipe ideas and creative strategies as to how they can incorporate beans and hummus into their diets throughout the day.
Convenience is a huge part of making breakfast possible for kids and adults. BUSH'S Hummus Made Easy® is revolutionizing the way that people are putting together breakfast burritos as BUSH'S Hummus Made Easy® requires little prep time and minimal cleanup.
About BUSH'S BEANS
BUSH'S® is all about family, friends that feel like family, and a certain Secret Family Recipe. When you enjoy our beans (doesn't matter if they're Baked Beans, black beans, pinto beans, great northern beans...you get the picture), you can trust that they're the very best. Because we wouldn't serve your family anything less. We pursue excellence and exceptional taste in our beans, sauces and everything we do. That's why, from mouthwatering Baked Beans to satisfying bean recipes, you're cooking up the best with BUSH'S BEST®. For more information, visit http://www.bushbeans.com.
About Mediaplanet
Mediaplanet is the leading independent publisher of content-marketing campaigns covering a variety of topics and industries. We turn consumer interest into action by providing readers with motivational editorial, pairing it with relevant advertisers, and distributing it within top newspapers and online platforms around the world.
*My Summary Report | Instantly™. (n.d.). Retrieved August 24, 2016, from https://www.instant.ly/report/55675611e4b02dd534ce287e