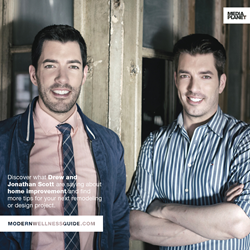 (PRWEB) August 30, 2016
The print component of "Home Improvement" is distributed within Tuesday's edition of USA Today, with a circulation of approximately 250,000 copies and an estimated readership of 750,000. The digital component is distributed nationally, through a vast social media strategy and across a network of top news sites and partner outlets. To export the digital version of the campaign, click here.
Popular HGTV stars of the hit show, The Property Brothers, Drew and Jonathan Scott, grace the cover of the print publication. In an exclusive interview, the guys discuss the most important aspects of a home remodeling project. They say, "ask how your family will use the property and make sure every aspect of the renovation has been considered. Last minute add-ons cost way more than planning in advance."
About Timberlane Inc.
Founded in 1995, Timberlane, Inc. produces custom exterior shutters, renowned for exceptional quality and customization, in a variety of high-quality, high-performance materials. There are no stock sizes or configurations; all Timberlane Shutters are custom built to 1/8" exacting specifications to meet the customer's precise need, with complete color-matching options, allowing the fullest custom build and design flexibility for custom builders, architects, designers, homeowners and more. Timberlane shutters currently hang on the windows of the White House; the Southern Living Design Home, Palladio Home Award winners, and many prestigious historic sites, but also throughout neighborhoods across the USA where quality and attention to detail are of importance. Timberlane provides unsurpassed customer care throughout the process, as it works directly with homeowners and trade professionals. Find out more at http://www.Timberlane.com or Call us at 800-250-2221.
About Mediaplanet
Mediaplanet is the leading independent publisher of content-marketing campaigns covering a variety of topics and industries. We turn consumer interest into action by providing readers with motivational editorial, pairing it with relevant advertisers, and distributing it within top newspapers and online platforms around the world.