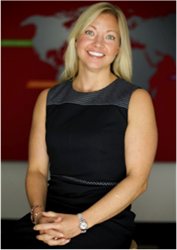 SIGMA will change the way growing businesses develop and manage their contingent workforce through offering a turn-key MSP solution.
Hanover, Md. (PRWEB) August 31, 2016
Allegis Global Solutions (AGS), a leading managed services provider (MSP) and recruitment process outsourcing (RPO) partner, has named Jessi Guenther as executive director of SIGMA MSP (SIGMA), its MSP offering targeted towards small- to mid-size companies. SIGMA is AGS's new contingent workforce management offering designed to support companies that traditionally rely on preferred supplier relationships or vendor-on-premise for candidate recruitment. As reflected in its name, SIGMA is the sum of Allegis Group's collective expertise in best practices and lessons learned of more than 30 years in the staffing industry.
Guenther has more than 19 years of talent acquisition experience and has been with AGS since 2004. She previously served as executive director of operations in EMEA. Based in London, she led AGS's strategic direction throughout Europe, the Middle East and Africa, and was instrumental in establishing MSP operations across EMEA as well as developing and stabilizing the global MSP solution for one of the largest and most complex clients in the world.
"SIGMA will change the way growing businesses develop and manage their contingent workforce through offering a turn-key MSP solution," said Steve Schumacher, senior vice president of MSP at AGS. "Jessi is the perfect fit for leading SIGMA as she has been integral in driving innovative talent acquisition strategies throughout her tenure at AGS."
SIGMA will allow organizations to gain access to top talent, best practices, and AGS's proven processes that control costs, mitigate risk, improve visibility and increase efficiencies. This unique MSP solution deviates from customary offerings by combining the benefits of an MSP program with the expertise of a preferred supplier or vendor-on-premise partner. While AGS will continue growing its world-class Enterprise MSP solution, the company saw a unique opportunity to develop an innovative program for an underserved market.
Guenther started her career with Allegis Group, AGS's parent company, in 1997 as a recruiter for Aerotek, an Allegis Group affiliate and one of the top global recruiting and staffing agencies. She held a number of recruiting, management and organizational development roles, before transferring to AGS in 2004 to serve as a program director implementing and managing a large portfolio of MSP clients in Milwaukee. She moved to Seattle in 2008 to build and manage one of the most complex MSP clients in the AGS portfolio and played a major role in expanding the business from the United States into Canada, Europe, and India.
For her new role, Guenther has relocated from London, United Kingdom to the AGS corporate headquarters in Hanover, Md. She is one of the founding members of Allegis Group's Diversity and Inclusion council and an advocate and spokesperson for women in leadership. Guenther was selected to Staffing Industry Analyst's annual "Global Power 100 Women in Staffing" list in 2015. She holds a bachelor's degree in communications and English from Ripon College in Wisconsin.
About Allegis Global Solutions
Allegis Global Solutions is founded on a culture that is passionate about transforming the way the world acquires talent by delivering client-focused solutions that make a difference for businesses worldwide.
From refining how you manage your contingent workforce to strengthening your employer brand to recruit top talent, our integrated solutions drive the business results you're after.
As an industry leader, we draw upon decades of experience to design innovative tools, products and processes. We develop competitive practices that position organizations for growth and we deliver the insight needed to succeed in today's global marketplace.