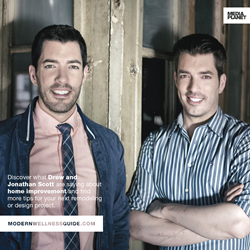 (PRWEB) August 30, 2016
The print component of "Home Improvement" is distributed within Tuesday's edition of USA Today, with a circulation of approximately 250,000 copies and an estimated readership of 750,000. The digital component is distributed nationally, through a vast social media strategy and across a network of top news sites and partner outlets. To export the digital version of the campaign, click here
Popular HGTV stars of the hit show, The Property Brothers, Drew and Jonathan Scott, grace the cover of the print publication. In an exclusive interview, the guys discuss the most important aspects of a home remodeling project. They say, "ask how your family will use the property and make sure every aspect of the renovation has been considered. Last minute add-ons cost way more than planning in advance."
About Armstrong World Industries
Armstrong World Industries, Inc. (AWI) is a global leader in the design and manufacture of innovative commercial and residential ceiling, wall and suspension system solutions. With over 3,700 employees and fiscal 2015 revenues from ceiling operations in excess of $1.2 billion, AWI operates from a global manufacturing network of 24 facilities, including nine plants dedicated to its WAVE joint venture.
About Mediaplanet
Mediaplanet is the leading independent publisher of content-marketing campaigns covering a variety of topics and industries. We turn consumer interest into action by providing readers with motivational editorial, pairing it with relevant advertisers, and distributing it within top newspapers and online platforms around the world.