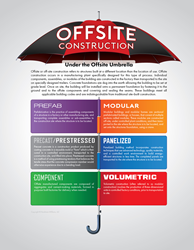 "[I'm attending] to purchase materials and acquire skills that will enhance my company growth and productivity" - Qualified Attendee
Washington, DC (PRWEB) September 01, 2016
Only two weeks left for free qualified registration to the 2016 Offsite Construction Expo on Sept. 21-22 at the Washington Convention Center in Washington, D.C.
This year's expo offers a group of presentation topics that cover the latest trends in all branches of offsite construction including prefab, modular, precast, panelized, component and volumetric. It's gearing up to be the best year yet with more than 500 amazing pre-qualified attendees and exhibitors. All markets will be represented including government agencies, development firms, suppliers, major retail and hospitality brands, data centers, and more!
One attendee is coming to the expo to "find offsite construction partners for data centers" while another is attending to learn more while "working on the design of prefab residential." These qualified attendees are key decision makers in their companies.
Speakers will cover topics ranging from the use of shipping containers in construction to the use of bathroom pods to reduce costs and material waste. Attendees will learn from these speakers who are veterans in the offsite industry with in-depth knowledge across all markets.
With only a small number of booths left, the expo has become the greatest opportunity to reach the construction industry's key decision makers. Exhibitors corner every market and with more than 10 hours of exhibit time during the expo, attendees will have more than enough time to learn and discover all they can about offsite construction methods.
Don't miss out! Register now to attend or exhibit at the 2016 Offsite Construction Expo at http://www.offsiteconstructionexpo.com.