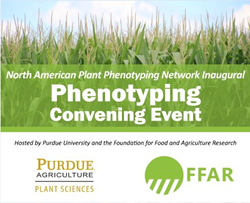 WEST LAFAYETTE, Ind. (PRWEB) August 30, 2016
The Foundation for Food and Agriculture Research, a nonprofit organization that supports innovative science, and Purdue University today welcomed attendees from 11 countries, 34 companies, 30 academic institutions and a variety of commodity groups, nonprofit organizations and government agencies to day two of a three-day meeting on plant phenotyping at Purdue University. The host organizations are uniting plant phenotyping technology users and developers to facilitate opportunities for collaborative research.
The rapidly developing plant phenotyping field has the potential to transform the agriculture industry by making crops more productive, sustainable and resilient in the face of variable weather patterns and the need to meet the growing global demand for food. Enhancing scientific understanding of the interaction between a plant's genetic makeup and its environment, or its phenotype, will enable plant breeders to anticipate and breed for the characteristics a crop needs to thrive in a specific climate or predicted weather condition, like drought.
Purdue University and the Foundation for Food and Agriculture Research (FFAR) are supporting this field's potential to generate crop varieties that benefit producers, consumers, and the environment.
FFAR seeks to identify phenotyping research directions that are primed for exploration through public-private partnerships, and to begin building those partnerships to facilitate future research.
"Increasing our ability to readily and efficiently phenotype plants will unlock valuable opportunities for growing new varieties of crops with enhanced nutritional content, better drought tolerance, and other qualities that improve our ability to grow more nutritious food in an economically and environmentally sustainable way," said Dr. Sally Rockey, executive director of the Foundation for Food and Agriculture Research. "We are proud to partner with Purdue to foster collaboration in this critical area of science."
Event hosts and attendees are working toward the formation of a network to enable continued collaboration between public and private sector organizations and individuals working in phenotyping.
"Interest in the phenotyping event has exceeded our highest expectations, which speaks to the critical importance of connecting plants' DNA information to meaningful traits," said April Carroll, director of phenomics for the Purdue University College of Agriculture.
The phenotyping convening event is made possible in part by support from the Iowa Corn Promotion Board, the Indiana Corn Marketing Council, the Indiana Soybean Alliance and Monsanto.
The event is being held in conjunction with this week's dedication of the Indiana Corn and Soybean Innovation Center, Purdue's new automated phenotyping and seed processing facility.
"The Indiana Corn and Soybean Innovation Center is designed as an intersection for researchers in agronomy, plant biology, engineering, and data science to collaborate on developing new and improved plant varieties and screening technologies," said Carroll.
Learn more about the event here: http://bit.ly/ffarpheno.
About Purdue University
Purdue University, a top public research institution, offers higher education at its highest proven value. Using state-of-the-art plant phenotyping and other innovative methods, Purdue's researchers are creating new traits and varieties that can better withstand environmental conditions. From agriculture to engineering, researchers are collecting massive data sets to identify and select the most promising plants for future research or application.
About the Foundation for Food and Agriculture Research
The Foundation for Food and Agriculture Research, a 501 (c) (3) nonprofit organization, builds unique partnerships to support innovative and actionable science addressing today's food and agriculture challenges. Leveraging public and private resources, FFAR will increase the scientific and technological research, innovation, and partnerships critical to enhancing sustainable production of nutritious food for a growing global population. Established by the 2014 Farm Bill, FFAR is governed by a Board of Directors chaired by former Secretary of Agriculture Dan Glickman and with ex oficio representation from the U.S. Department of Agriculture and National Science Foundation.
Learn more: http://www.foundationfar.org | bit.ly/FFARNews. Connect: @FoundationFAR | @RockTalking.
###