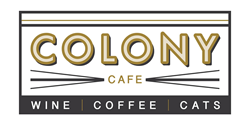 Pittsburgh, PA (PRWEB) August 31, 2016
In a city constantly buzzing around exciting new cafes and restaurants, something completely different is about to come onto the scene: Pittsburgh's first cat cafe and wine bar, Colony Cafe.
Sue and Erik Hendrickson – recent transplants from Brooklyn, NY – will soon open Colony to bring a community-focused cafe to life, where third wave coffee, a curated wine selection and adoptable cats come together to offer Pittsburgh locals and visitors a unique experience.
"We wanted to make a sharp left-turn in our lives and careers," said Sue Hendrickson, owner of Colony. "After a few visits, we fell in love with Pittsburgh, and decided to quit our corporate jobs to set out on this adventure of sharing our passions with a vibrant, friendly community."
Cat cafes started in Asia in the 90s and have since grown in popularity throughout major cities in Europe and the US. What is a cat cafe? Simply put, it is everything one loves about a local hangout – superior coffee, delicious wine, plus the option of relaxing with cats!
Colony is proud to partner with the Western PA Humane Society, who will provide rescued cats that will live at the cafe full time, ready to be adopted out into permanent homes. "We are incredibly grateful for this partnership with Colony Cat Cafe. Oftentimes, especially during the summer months, shelters need more room and outlets for cat adoptions. This creative and fun way to find cats forever homes is needed in our community," said Hala Nuemah, Managing Director, Western PA Humane Society.
Three distinct offerings will make up Colony's interpretation of the cat cafe concept:
1. Cat Visits where for a small cover charge you can spend time playing with about a dozen adoptable cats in a separate area of the cafe. Guests will be able to enjoy coffee, wine and snacks while lounging with the kitties.
2. Third Wave Coffee and espresso drinks to-go or in a sit-down destination coffee shop environment separate from the cats, where sweet treats will also be available.
3. Owner-Curated Wine separate from the cat area where guests can have savory snacks along with a selection of affordable wines in a relaxed, neighborhood wine bar atmosphere.
Commenting on the community nature of the cafe, Erik Hendrickson said: "We want a space to highlight the best of the surrounding area. In addition to fine coffee and wines, we will have popular treats from nearby shops and offer a place where local artisans can shine. We envision featuring local artists, providing exposure for their work," he said. "In other words, we will be a cat cafe where we can also enjoy – together – the rich culture and cuisine of Pittsburgh."
Please follow ColonyCatCafe on Facebook, Twitter and Instagram for updates on the grand opening date, location and advance reservations.
For more information about the cafe and the Western PA Humane Society, visit our website at http://www.colonycafepgh.com.
Media contact:
Erik Hendrickson
info(at)colonycafePGH(dot)com
(917) 282-1875