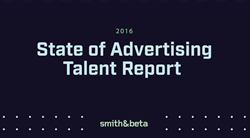 "For far too long, agencies have relied on the acquisition of expert talent to deliver digital solutions to clients, but this approach has simply not scaled," says Allison Kent-Smith, founder of smith & beta
Boulder, CO (PRWEB) August 31, 2016
Advertising agencies continue to create cutting-edge solutions for clients, but must invest more in talent development to compete in the fast moving digital economy, according to the findings of a proprietary survey conducted by smith & beta.
The three-year quantitative and qualitative benchmark study, The State of Advertising Talent report, analyzed responses from more than 2,000 employees in advertising agencies in North America, EMEA, APAC and LATAM, and brought to light several significant findings:

Agencies are not prepared: 62% of employee respondents at agencies claim their clients are asking for more advanced digital work from their team, yet more than 43% of employee respondents at agencies feel that they aren't prepared for the future work within their industry
Mobile Advertising Strategy: 55% of respondents describe themselves as novice or below in their mobile-strategy capabilities, while only 15% said they are semi-expert or expert
Data/KPIs Measurement: 50% of total employee respondents are novice or below
Cross-Platform Storytelling: 33% of total employee respondents are novice or below
User Experience: 47% of total employee respondents are novice or below
Prototyping: 65% of total employee respondents are novice or below, while only 17% are semi-expert or expert
62% of employee respondents at agencies claimed that they talk more than they make
50% of respondents believe that they are not fast and iterative with their ways of working
Only 7% of agency respondents think they are exceeding client expectations
A talent-development firm that helps companies evolve staff and workplace capabilities, smith & beta cites a lack of core skillsets and outdated organizational habits from the survey results. The company's analysis identified deficiencies in practice areas such as analytics, social media, and mobile.
"For far too long, agencies have relied on the acquisition of expert talent to deliver digital solutions to clients, but this approach has simply not scaled," says Allison Kent-Smith, founder of smith & beta. "Most employees are far behind in skillsets that are generating the largest revenue opportunity. For some skillsets, more than 60% of employees rate themselves novice or 'have no idea' about that particular practice area."
"There are agencies that are focused on ensuring their digital capabilities and skillsets match client demand," notes Kent-Smith. "A good example is Ogilvy & Mather. They invest in annual educational programming for staff that promotes experimentation, making, and understanding digital trends and technologies. Cultivating a learning culture is critical to sustained innovation in the industry."
"Digital must be at the heart of any idea we create," says Adam Tucker, president of Ogilvy & Mather Advertising New York. "With new technology driving rapidly changing consumer behavior, continuous digital transformation is imperative. Two years ago we committed to putting every Ogilvy New York agency employee through a 12-week digital education series partnering with smith & beta. As a result, our people are far more digitally fluent and our ideas digitally centric. Now we're moving this training to a client team level and seeing even greater impact."  
Click here to view The State of Advertising Talent report smithandbeta.com/resources 
About 2016 The State of Advertising Talent Report
The smith & beta survey was distributed to leading advertising companies across North America, APAC, LATAM, and EMEA since 2013. Survey participants included employees from small and large agencies who answered skill and organizational readiness questions via a quantitative survey and one-on-one, group employee and leadership interviews.
About smith & beta
smith & beta is a talent development company that designs custom education and organizational design programs to help employees get smarter about all things digital: social, mobile, data, analytics, creative, content and technology. The team is made up of former leaders at leading agencies, brands, and tech companies and has worked with many leading agencies and brands around the world, including BBH, Goodby Silverstein & Partners, McCann Worldgroup, Ogilvy & Mather and KBS to name a few. For more information, follow us @smithandbeta and https://www.linkedin.com/company/smith-&-beta .