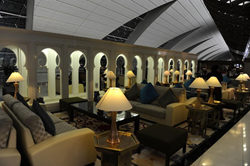 Luxurious, restful airport lounges are an important component of the high-end travel experience.
Chicago, IL (PRWEB) September 06, 2016
Luxurious, restful airport lounges are an important component of the high-end travel experience. They help to ease the frustration of long layovers and the discomfort of early departures.I Fly First Class, or IFFC, tracks the latest developments in first and business class lounges to ensure its customers receive the ultimate luxury travel experience. Today, IFFC announced its list of the world's best 10 airport lounges for 2016.
Criteria for this year's best airport lounges include the lounge's level of attentive service, culinary offerings, exclusive perks and inviting ambiance. Experts at IFFC also considered each lounge's ratings by industry publications, variety of services offered and availability of business space and amenities.
Topping this year's list is Cathay Pacific. The airline continues to wow its first class passengers with its Hong Kong airport lounge, The Wing. The lounge recently received a renovation that intensifies its spectacularly lush atmosphere. Setting its lounge apart from the rest is Cathay Pacific's private Cabanas. The private Cabanas offer luscious soaking tubs, rain showers and day beds as well as working space and amenities. Passengers also enjoy the lounge's The Haven restaurant, a champagne bar and spacious, well-equipped workstations.
In Frankfurt, Lufthansa reserves an entire terminal for its first class passengers. The first class terminal offers every imaginable luxury, including private chauffeur service via Mercedes-Benz or Porsche. Lufthansa's customers pass through private passport and security checkpoints at the first class terminal and enjoy services such as a private cigar lounge, napping rooms and refreshing showers. "In the competitive luxury airport lounge market, Lufthansa hits all the right notes with its Frankfurt first class terminal," says Julia Graft, IFFC public relations manager.
Air France makes its debut on IFFC's list with the air carrier's amenity-rich first class lounge at Paris-Charles de Gaulle Airport. There, passengers don't even have to enter the airport at all. The air carrier's chauffeur service picks passengers up on the tarmac at their arriving flights and drives them directly to their departing airplanes. If there's a layover, passengers are delivered to La Premier lounge where the service is stellar. Special services include Biologique Recherche spa treatments and meals designed by triple Michelin-starred chef Alain Ducasse. There are numerous lounge chairs, day beds and armchairs for relaxing, and a personal assistant is assigned to each guest.
Large, open spaces give Qatar Airways' Al Safwa first class lounge in Doha its tranquil and refreshing ambiance. The lounge opened in late 2015, and it's already a favorite of the world's upper-tier travelers. Arriving guests relax in comfort in private check-in facilities and enjoy equally exclusive immigration and security check stations. Spacious napping rooms, tasty champagne service, and versatile dining menus pamper guests. The superb staff-to-passenger ratio means that most guests enjoy extremely personalized service.
"That personalized service is critical in a very competitive market," Graft says. "Carriers are increasingly distinguishing themselves by offering more intensely personal attention. While Lufthansa's Frankfurt terminal is often considered the benchmark purveyor of this service, more airlines such as Air France and Qatar Airways are now in the game as well."
Excelling in this personalized service, Thai Airways offers exclusive service at its first class lounge, the Royal Orchid, in Bangkok. Passengers receive a personal escort through check-in, immigration and security, and they're met at the gate by these assistants between connecting flights. The lounge also provides an sumptuous Royal Orchid Spa, offering a wide variety of spa treatments. Semi-private living rooms, nicely private napping rooms and a host of secluded spaces give guests plenty of room to recharge in comfort.
Rounding out IFFC's list of the 10 best airport lounges around the world are Qantas Airways's lush Sydney lounge, Emirates' immense Dubai first class lounge, ANA's Tokyo lounge, Etihad's new flagship lounge at Abu Dhabi and SWISS' amenity-filled Zurich lounge.
For more information about cheaper luxury flights to Asia and other international destinations, visit http://www.IFLYFIRSTCLASS.com or call toll-free (888) 347-7817