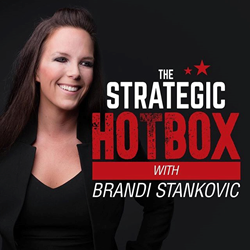 My goal is to make leadership development cool. You don't have to be a nerd to be informed. Just learn, love and make things happen.
(PRWEB) September 01, 2016
Mitchell, Stankovic & Associates announces The Strategic Hotbox, an innovative video podcast series. On the heels of her book, The Strategic MVP, Dr. Brandi Luv Stankovic, is once again kicking leaders in the a**.
"Our goal is to activate executives, share insight, and have fun in an edgy and informed way," Brandi said. "So what is a hotbox? A room that allows for the exhaled to also be inhaled. A Strategic Hotbox is a forum for raw authentic leadership discussions. We inhale each other's pov and keep it real."
Throughout the show's three main segments, Learn, Love and Kick Ass, Stankovic shares insights into relevant obstacles leaders face as she meets with friends across industries, including banking, entertainment, education, nonprofit, healthcare and more.
"My goal is to make leadership development cool. You don't have to be a nerd to be informed. Just learn, love and make things happen," Brandi explained. "Often the most relevant and raw innovators of coaching are not traditionally educated and the most prestigious are untouchable or academic in approach. I want to change that. It should be cool to be educated and authentic."
"I have read her book and seen her speak several times. I am a big fan. So to have Brandi tell me that she's starting a podcast, you know I was pumped," shared Tobias Kennedy, EVP of Montage Insurance Solutions, and the premier episode's guest. "The Strategic Hotbox is different. Brandi's innovative approach is refreshing. As a guest, we shared stories of leadership. As a listener, I am at the edge of my seat to hear what is next," said Joseph Schroeder, CEO of Ventura County Credit Union.
Mitchell, Stankovic & Associates teamed up with the Vegas Video Network, Las Vegas' most experienced video streaming firm to produce and distribute the show. VVN's CEO, Scott Whitney noted, "When it comes to your professional life (personal life too), if you recognize YOU are an entity worth investment, take a look at The Strategic Hotbox."
"I've worked with and learned from unbelievably talented individuals," Brandi said. "Showcasing them on the podcast is not only enlightening but so much fun."
Coming to you from the streets of Las Vegas, The Strategic Hotbox with Dr. Brandi Luv Stankovic will challenge you to take it to the next level and is available on iTunes and at http://strategichotbox.com.
About Brandi Stankovic:
Dr. Brandi Luv Stankovic is an organizational change expert, motivational speaker, professor, artist and Mommy who inspires firms globally her models of leadership, engagement, and award-winning education. Brandi is the senior partner and co-founder of Mitchell, Stankovic, and Associates and spends her time consulting with CEOs and their teams, writing books and articles related to leadership and organizational health, and speaking to audiences from across the globe.
About Mitchell Stankovic & Associates:
Mitchell Stankovic and Associates (MSA) is a global strategic consulting firm that challenges the status quo and builds trusted partnerships with nonprofits, credit unions, CUSOs, boards and executives. 30-minute podcast episodes are released by Mitchell Stankovic & Associates every two weeks. You are invited to share and subscribe to the podcast on iTunes, YouTube or at http://www.strategichotbox.com. If you are interested in connecting with Brandi, submitting ideas for future episodes, or sending a shout out, email us at podcast(at)strategichotbox(dot)com. Learn More at http://www.mitchellstankovic.com