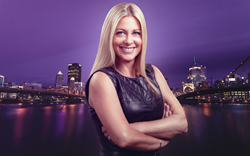 When you set high expectations, manage them and deliver, your clients reward you.
Pittsburgh, PA (PRWEB) September 06, 2016
"I have sold three houses and I wish that Lauren Klein had been our agent for the first two..."
No one says it better than your clients. This is just a portion of the hundreds of glowing reviews that Lauren receives on an almost daily basis. "It brings a smile to my face and warms my heart to know that my clients walk away excited and happy about their transaction... this is how you should feel about buying or selling your home."
Unfortunately, the home buying or selling experience doesn't always end warm and fuzzy. Realtors often find themselves in the middle of tense situations, emotions and issues. "This is what I found to be the case all too often, when a client referred to past experiences," says Lauren. "I decided from the first client I worked with, and every other to follow, that this would never be their experience. More often than not, the issues fell within the Realtor's ability to mitigate the situation by remaining objective and still make sure their client felt represented in a fair manner."
The stigma surrounding the real estate industry is difficult to navigate, but Lauren feels this is what gives her, and her brand, Pittsburgh Property Diva, a distinct advantage. "I created Pittsburgh Property Diva as an identity and through this brand, I deliver an unmatched experience and dedication to my clients. I think the brand sets the expectation..." When asked, she replies "Am I a Diva? Yes. A diva for my clients." What truly sets Lauren and her brand apart is that she remains approachable, humble and thankful for every success. "When you set high expectations, manage them and deliver, your clients reward you. This is what real estate is all about. Helping people manage through one of the stressful and happiest times of their lives."
Lauren's efforts and dedication propelled her to the top of the charts in the Pittsburgh real estate world. Pittsburgh Property Diva's new branding campaign aims to bring recognition to more than just the Pittsburgh area. "This city, this region, is experiencing a wonderful renaissance. Pittsburgh is now on the scene as a vibrant, growing and diverse city. Technology, healthcare and education are a huge part of the economy. We are seeing a large influx of relocation to the area, and I am looking forward to the opportunities that presents for our real estate market."
"The corporate client or executive relocating to Pittsburgh is looking for the right first impression. They deserve it... Pittsburgh deserves it. My brand asks you to Experience the Difference. A campaign such as this is ambitious, but that's what real estate is all about... ambitions."
The truth is in the details. All you have to do is ask Lauren's clients. Experience the Difference.