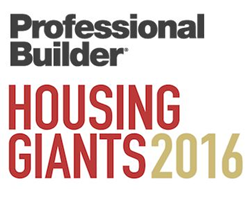 Meeting and exceeding the needs of buyers is the reason our firm continues to grow and what's most rewarding is that so many of our homeowners are repeat homebuyers or referrals. — Robert McCaffrey, CEO of McCaffrey Homes
Fresno, Calif. (PRWEB) September 01, 2016
For the fourth consecutive year, McCaffrey Homes — a leading, third-generation family homebuilder based in Fresno, Calif. — has been named a Housing Giant by Professional Builder Magazine.
Each year, the leading industry publication ranks the nation's largest home builders by housing revenue and the number of homes closed in the prior year. For four decades, the Housing Giants list has been the pre-eminent listing of America's largest homebuilders.
Over the last two years, McCaffrey Homes has climbed in the rankings — rising 27 spots from 2015 and 51 from the year prior.
"It's an honor to again be recognized by Professional Builder as one of the top builders in the nation," said Robert McCaffrey, CEO of McCaffrey Homes. "This is an honor for our entire team, which works so hard to make McCaffrey Homes special."
"We value the trust and loyalty we've earned from our homebuyers," McCaffrey said. "Meeting and exceeding the needs of buyers is the reason our firm continues to grow, and what's most rewarding is that so many of our homeowners are repeat buyers or referrals."
Firms that wish to be considered for the Housing Giants list must complete a questionnaire that includes the types of homes they build, average square footage, revenue and closings. In addition, Professional Builder retains researchers who contact large building firms to create the most complete and authoritative list of America's largest building firms.
The 2016 Housing Giants report also includes a state-by-state map of where builders are building, as well as in-depth features on the state of entry-level housing and the future of master-planned communities, offering a comprehensive view of the challenges and opportunities homebuilders face in the next few years along with how what they are building may be changing. Firms ranked by the publication will be the focal point of Professional Builder's Housing Giants Leadership Conference, to be held in La Jolla, Calif. on October 19-21, 2016.
With three generations of experience, McCaffrey Homes has built more than 9,000 homes and has been honored nationally for the quality of its construction and customer service.
In 2014, Robert and Karen McCaffrey were inducted into the Hall of Fame by the California Homebuilding Foundation in recognition of their contribution to the building industry and their lifelong commitment to innovation, public service and philanthropy.
Today, McCaffrey Homes is building in three communities in the Fresno and Clovis areas: The Gallery in Clovis, The Heights on Copper and Liberty Square, and two upcoming neighborhoods in Madera at Riverstone, a new master-planned community.
McCaffrey is also projected to break ground on Tesoro Viejo, their own 1,600-acre master-planned community in Madera, which won the 2016 Outstanding Planning Award in Innovation in Green Community Planning. For more information, visit http://www.mccaffreyhomes.com/.
To learn more about the 2016 Housing Giant rankings, visit http://www.probuilder.com/2016-housing-giants-rankings. To see the ranking for McCaffrey Homes, visit http://www.probuilder.com/mccaffrey-homes.