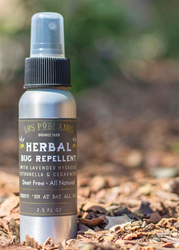 We're excited to be able to offer something safe to our guests and families so they can enjoy the outdoors together.
Los Ranchos de Albuquerque, N.M. (PRWEB) August 30, 2016
Los Poblanos Organic Lavender Farm has an all-natural answer to this season's over population of insects. Los Poblanos Herbal Bug Repellent combines the farm's organic lavender hydrosol with a powerful blend of essentials oils such as Citronella and Rosemary to create an effective and safe repellent for small insects.
According to Dr. Paul Smith of the City of Albuquerque, "95% of all mosquitoes currently being trapped in our area are AEDES VEXANS. Numbers are trending higher than normal and this is expected to continue for the season."
Lavender, the farm's main organic crop, is known to deter pests including flying insects and moths. For more than a decade, Los Poblanos has used a steam distillation process to extract organic lavender essential oil for its body care products. The distillation equipment separates the essential oils from the flower water, known as hydrosol, and is the second product created in the steam distillation process.
Starting with organic lavender hydrosol or flower water and carefully adding a blend of essential oils known for their ability to discourage and detract bugs including Citronella, Eucalyptus Leaf, Cedarwood and Lemongrass, this all-natural spray will repel bugs. It contains no harmful chemicals, like DEET, which is in line with Los Poblanos' mission to farm responsibly. Application every few hours is recommended.
Executive Director Matt Rembe shares, "One of lavender's wonderful benefits is that bugs don't like it. For years our farmers and gardeners have just slathered on our lotion and salve to help repel bugs, but we knew we could create something even more effective by blending our hydrosol with four essential oils known for repelling bugs. And they just happen to smell wonderful. We'll now have the best-smelling farmers in the country! We're excited to be able to offer something safe to our guests and families so they can enjoy the outdoors together."
ABOUT LOS POBLANOS
Los Poblanos is a 25 acre property organic farm and historic inn. Our mission is to preserve the historic Los Poblanos Ranch by cultivating a dynamic business dedicated to sustainable agriculture, hospitality, historic preservation, and community. We grow and distill our own lavender each season. Los Poblanos is committed to offering body care products featuring the most natural ingredients possible. All of our products are sulfate and paraben free. We never test on animals. But we do repel bugs.
For more information, contact: Amy Jones, marketing(at)lospoblanos(dot)com.