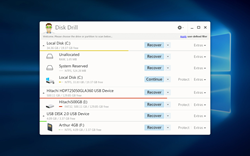 Disk Drill has always been a 'technology that helps' rather than just an app. With the new version of Disk Drill for Windows, we are improving this technology, making the app a friendlier and more efficient software for everyday use
ATLANTA, GA (PRWEB) August 31, 2016
CleverFiles announces the immediate availability of Disk Drill 2 for Windows, the new version of the expert-level data recovery app. CleverFiles is the devoted software developer specializing in data recovery that doesn't involve any costly lab work. With Disk Drill anyone can run a successful data recovery on their Windows PC and get lost data back in minutes without the need to send a hardware elsewhere.
Disk Drill for Windows is capable of recovering various types of data in the most critical cases. The new release adds more file systems into native Quick recovery, including exFAT and EXT4. The updated Deep Scan procedures have been enriched with multiple new file formats in their binary source database.
Unlike any conventional recovery apps, Disk Drill also finds and recovers full partitions, if they were deleted or got corrupted while formatting a disk, or due to a power outage, etc. Disk Drill's version 2 expands on lost partitions scenarios when it can restore the whole data structure back in place.
"Disk Drill has always been a 'technology that helps' rather than just an app. With the new version of Disk Drill for Windows, we are improving this technology, making the app a friendlier and more efficient software for everyday use." said JR Belden, the Disk Drill team lead.
When your drive's hardware is damaged and does not operate reliably, Disk Drill can create a byte-to-byte backup image of all its memory sectors. This helps prevent fatal data loss in case the disk stops responding completely. Recovery may proceed using the newly created disk image and save the hardware from unnecessary utilization. Disk Drill 2 adds more speed to its backup features.
Disk Drill 2 introduces Hex preview mode to improve user data recoverability verification. It increases user confidence in data quality before initiating the actual recovery.
Multiple data recovery algorithms are packed into one nifty app that can be downloaded at http://www.cleverfiles.com. Disk Drill for Windows employs a freemium distribution model. Disk Drill 2 adds PRO edition for unlimited data recovery on top of the free cap of 2GB per user.