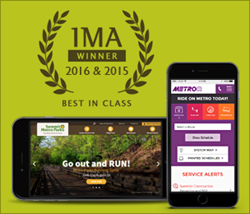 We are thrilled to receive two Best in Class Awards from the IMA for our efforts. - Evolve owner Todd Bertsch
Akron, Ohio (PRWEB) August 31, 2016
Evolve Creative Group is an innovative web design and online marketing company located in Akron's historic Highland Square. Evolve has received the Best in Class Award for the redesign and development of both the Akron METRO RTA website and Summit Metro Parks website. The Summit Metro Parks site is the 5th of Evolve's redesigns to win this prestigious award.
Best in Class is the highest category awarded by the Interactive Media Awards (IMA). With an overall score of 500 out of 500 possible points, Evolve's redesign of the Summit Metro Parks website is only the 19th entry to receive a perfect score since 2005, with over 30,000 entries submitted.
With a goal of improving usability, the purpose of the Summit Metro Parks website redesign was to make information easier for users to find. The navigation was simplified so users don't have to hunt for parks, trails, alerts, activities or other important content. A custom-built Park and Trail Finder was developed in an effort to not only help users get the exact information they need, but also remind them of the variety of parks and activities available.
"One of the most satisfying parts of the development process is seeing how individuals interact with your build once it's been launched. To hear someone say, 'No other park [system] offers anything close to this,' while reviewing the website is a phenomenal feeling. Simple, unsolicited feedback like that is how you know the extra effort was worth it," said Mike D'Agruma, lead front-end developer at Evolve Creative Group.
The beautiful photography, easy navigation, mobile-friendly design and relevant content all helped this website redesign earn a perfect score – the first entry this year to do so.
"The redesign of the Summit Metro Parks website has been a huge success and we are thrilled to receive a perfect score and Best in Class Award from the IMA for our efforts," said Evolve owner Todd Bertsch.
With a similar goal of improving website usability and ease-of-use across all devices, Evolve received a Best in Class Award in the Transportation category for the Akron METRO RTA website for the second time.
"The METRO RTA website is such a crucial tool for riders as they move around Akron," said Kiersten Traboulsi, project manager at Evolve Creative Group. "To be awarded Best in Class for this site truly shows just how easy to use it is. Riders can look up their daily schedules or find their route on an interactive Google map, on any device."
###
About Evolve Creative Group:
Evolve Creative Group provides customized web design and online marketing solutions to meet and exceed our clients' expectations and goals in the Akron and Cleveland, Ohio areas. Led by president and owner, Todd Bertsch, Evolve has received multiple awards for its creative, user-friendly and results-driven websites. With a team of passionate web designers, developers, project managers and online marketers, Evolve offers a full-suite of online services including responsive web design and development, search engine optimization, paid search, email marketing, social media marketing, usability testing, video production and more.
About the Interactive Media Awards™
The Interactive Media Awards recognize the highest standards of excellence in website design and development and honor individuals and organizations for their outstanding achievements. The competition is open to individuals and organizations involved in designing, developing, managing, supporting and promoting websites.
Interactive Media Awards™ Judging
The Best in Class Award is the highest honor bestowed by the Interactive Media Awards. It represents the very best in planning, execution and overall professionalism. Website entries that receive an overall score of 480-500 points receive the IMA Best in Class Award. Websites receiving an overall score of 460-479 points receive the Outstanding Achievement Award. Only 19 entries have received a perfect 500-point score since 2005.