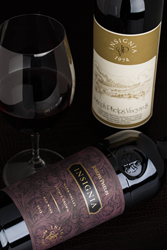 "We at Joseph Phelps Vineyards are proud to announce the release of the 40th vintage of Insignia, our flagship wine," said Bill Phelps, President of Joseph Phelps Vineyards.
St. Helena, CA (PRWEB) August 31, 2016
Joseph Phelps Vineyards is pleased to announce the release of its 40th vintage of Insignia on September 1, 2016. To mark this important milestone, Phelps created a special 40th vintage logo that pays homage to the original 1970's Insignia label design for inclusion on the 2013 Insignia label and a commemorative six-bottle wood box.
"We at Joseph Phelps Vineyards are proud to announce the release of the 40th vintage of Insignia, our flagship wine," said Bill Phelps, President of Joseph Phelps Vineyards. "As California's first proprietary red wine blend, Insignia has been crafted annually since 1974 from the finest grapes grown in each vintage. Today, the legacy continues and Insignia remains a true testament to that commitment that began forty years ago and will continue for years to come."
"The 2013 vintage is a special year for Insignia, not only because it is the wine's 40th release, but also due to the extraordinary 2013 harvest that gave us fruit of exceptional purity and concentration," adds Phelps. "I have no doubt that this vintage will stand with the finest we have yet produced."
Originally created from the 1974 vintage, Insignia is the first proprietary Bordeaux-style blend produced in California. Each vintage is comprised of the best grapes from Joseph Phelps Vineyards, first from both grower and estate fruit, and beginning with the 2004 vintage, from entirely estate-grown fruit sources. Insignia is a Cabernet Sauvignon based wine crafted from six of the Joseph Phelps estate vineyards in Napa Valley.
"The 2013 Insignia is one of the wines I am most proud of," said Ashley Hepworth, Winemaker at Joseph Phelps Vineyards. "It's showing exceptionally well for being so young." Hepworth went on to say that 2013 had textbook weather throughout the growing season and harvest, resulting in concentrated wines with remarkable structure.
2013 Insignia is a blend of 88% Cabernet Sauvignon, 5% Petit Verdot, 3% Merlot, 3% Malbec and 1% Cabernet Franc from 100% estate-grown vineyards in Stags Leap District, South Napa, Rutherford, Oak Knoll District and St. Helena. This latest vintage showcases blackberry and plum aromatics laced with baking spices, cardamom and espresso followed by an elegant tannin structure, silky mouthfeel and layers of dark fruit, black pepper and bittersweet chocolate.
The suggested retail for 2013 Insignia is $250. It will be available for purchase to visitors of the winery and online at http://www.josephphelps.com beginning September 1, 2016. Insignia is distributed throughout the United States and select international markets.
About Ashley Hepworth, Winemaker, Napa Valley
Ashley Hepworth joined Joseph Phelps Vineyards in 1999 as a harvest intern and stayed on to become a laboratory technician and enologist. In 2004 she was named Associate Winemaker, overseeing all day-to-day Napa Valley winemaking activities, and in 2008 was promoted to Winemaker. She attended Fort Lewis College in Durango, Colorado where she earned a B.S. in Biology and a minor in Chemistry. Her passion for wine is matched by her love of fine food, and her college years were marked by positions in the kitchens of some of Durango's finest restaurants, and later with the celebrated chef Charlie Trotter in Chicago. Furthering her winemaking experience, Ashley traveled to St. Emilion in 2005 for a harvest internship at Chateau Angelus. In 2006, to further her education, Ashley earned a Winemaking Certificate from the Viticulture and Enology Department at the University of California at Davis.
About Joseph Phelps Vineyards
Joseph Phelps Vineyards is a family-owned winery committed to crafting world class, estate-grown wines. Founded in 1973 when Joe Phelps purchased a former cattle ranch near St. Helena, the winery now controls and farms 390 acres of vines in Napa Valley on eight estate vineyards in St. Helena, the Stags Leap District, Oakville, Rutherford, Oak Knoll District, Carneros and South Napa. In pursuit of an ideal location to grow Pinot Noir and Chardonnay, in 1999 the Phelps family purchased land near the town of Freestone on the western Sonoma Coast, planted 100 acres of vineyards, and built a dedicated winery. Phelps is best known for its flagship wine, Insignia, a Napa Valley blend of red Bordeaux varieties first produced in 1974. http://www.josephphelps.com