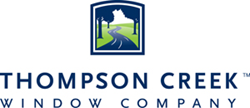 Lanham, Maryland (PRWEB) August 31, 2016
Thompson Creek Window Company is proud to appear once again on the Top 550 List of best replacement contractors in the nation as ranked by Remodeling Magazine. Thompson Creek Window Company ranked number 7 on the 2016 list.
The 2016 Remodeling 550 List includes 345 full-service companies, 145 replacement contractors, 17 insurance restoration firms and 43 franchises. The list is compiled based on reports submitted by the companies, as well as publicly available information. For the second year, participants in the full-service and replacement contractor categories could choose to have Guild Quality, the leading firm in customer satisfaction surveying for the remodeling industry, survey their customers. The 2016 Remodeling 550 List also denotes firms that have been selected for REMODELING's Big50, an annual designation for companies that have achieved operational and financial excellence. Thompson Creek Window Company received both of these recognitions within the company ranking.
The 2016 Remodeling 550 List features an interactive web presentation including easily sortable columns, an interactive map and additional dynamic interactive graphics. Additional information on the 2016 Remodeling 550 List can be found in REMODELING's August 2016 issue or http://www.remodelingmag.com.
About Thompson Creek
Thompson Creek Window Company is a privately owned and family-operated manufacturer and installer of energy-efficient home improvement replacement products. Founded in 1980, Thompson Creek Window Company began as a manufacturer of energy-efficient maintenance-free vinyl windows. Since that time, Thompson Creek Window Company has evolved into one of the leading specialty home improvement contracting companies in the nation. The company's product mix includes replacement windows, doors, vinyl siding and a clog-free gutter system. Thompson Creek Window Company is headquartered in Lanham, Maryland and plans to hold a Grand Opening Ceremony for its new manufacturing and warehousing operations in Upper Marlboro in Fall 2016. Thompson Creek employs over 450 people in the Mid-Atlantic region.