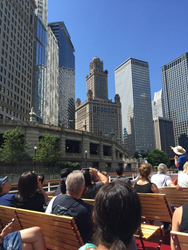 While many travelers are headed overseas, others are staying close to home, taking in some of the country's most iconic attractions made by man and Mother Nature
San Francisco, CA (PRWEB) August 30, 2016
The unofficial summer swansong is upon us but that isn't stopping American travelers from continuing their wanderlust. The team at Viator, a TripAdvisor company and the leading resource for tours and activities worldwide, has ranked the top 10* international and domestic activities American travelers are enjoying over the 2016 Labor Day Weekend.
According to Viator bookings made by U.S.-based travelers for the season's closing 3-day weekend, Europe-based activities occupy six of the top 10 most popular tours worldwide. So, there's no doubt Viator's U.S.-based customers are traveling abroad and truly making the most of their late-summer holidays. While many travelers are headed overseas, lots are staying close to home, taking in some of the country's most iconic attractions made by man and Mother Nature including the Grand Canyon, Muir Woods and Niagara Falls.
Top 10 International Travel Experiences
Americans are flocking to the land of "la dolce vita" as travel experiences in cities across Italy make up half of the top 10 most popular Labor Day tours outside the U.S.: the Vatican, St Peter's Basilica, the Colosseum, the Tuscan countryside and Rome's city-center are captivating travelers. Two destinations with solid value now due to favorable currency exchange rates feature two of the top 10 activities; Reykjavik's Blue Lagoon Spa, and London's exploration of Stonehenge, Windsor Castle and Bath. Barcelona boasts two of the top 10 international favorites for the weekend: Skipping the line at Barcelona's Sagrada Familia and the City Sightseeing Hop-on Hop-off Tour; with the Eiffel Tower in Paris rounding out the international top 10.
1. Skip the Line: Vatican Museums Walking Tour including Sistine Chapel, Raphael's Rooms and St Peter's
2. Skip the Line: Barcelona Sagrada Familia Tour
3. Skip the Line: Ancient Rome and Colosseum Half-Day Walking Tour
4. Skip-The-Line: Eiffel Tower Semi-Private tour and Summit access
5. Tuscany in One Day Sightseeing Tour
6. Rome Hop-On Hop-Off Sightseeing Tour
7. Stonehenge, Windsor Castle and Bath Day Trip from London
8. Blue Lagoon Spa with Round-trip Transport from Reykjavik
9. Skip the Line: Vatican Museums, Sistine Chapel and St Peter's Basilica Half-Day
10. City Sightseeing Barcelona Hop-On Hop -Off tour
Top 10 Domestic Travel Experiences
The list of the 10 most popular tours across the U.S. booked by American travelers for Labor Day weekend is as unique as the country itself, which also highlights the diverse nature of Viator's offerings for travelers. The number one tour booked for Labor Day weekend in the U.S. is the Chicago Architecture River Cruise, showcasing the Windy City's unique architectural landscape encompassing numerous inspiring styles constructed by renowned architects. From manmade to nature's work, three Grand Canyon experiences from Las Vegas are trending for the upcoming weekend, with other American beauties including Muir Woods, the Giant Redwoods and Niagara Falls, along with the inviting crops of Northern California – aka Napa and Sonoma Wine Country – proving popular among domestic travelers also. Experiences in New York serve as homage to the city and the country with the 9/11 Museum, the Statue of Liberty and Ellis Island, and One World Observatory activities ranked firmly among the most booked.
1. Chicago Architecture River Cruise
2. Grand Canyon and Hoover Dam Day Trip from Las Vegas with Optional Skywalk
3. Napa and Sonoma Wine Country Tour
4. Muir Woods, Giant Redwoods and Sausalito Half-Day Trip
5. 9/11 Memorial Museum Admission
6. Statue of Liberty and Ellis Island Guided Tour
7. Grand Canyon All American Helicopter Tour
8. One World Observatory Admission
9. Niagara Falls in One Day: Deluxe Sightseeing Tour of American and Canadian Sides
10. Grand Canyon South Rim Bus Tour with Optional Upgrades
For information on these experiences and thousands more – all bookable online and on-the-go on the free Viator Tours & Activities App – as well as the latest deals, promotions, contests and news, visit Viator.com, or follow Viator on Facebook (ViatorTours) and Twitter (ViatorTravel).
*NOTE: Rankings are derived from bookings made by U.S.-based Viator customers (as of Aug. 29) for the period September 3 - 5, 2016.
About Viator
Viator, a TripAdvisor company, is the leading global tours and activities provider for travelers, delivering online and mobile access to thousands of trip activities including tours, attractions, shore excursions and private guides, in more than 2,000 destinations worldwide. In-house travel experts work with trusted local operators to ensure the quality and value of every experience, all backed by Viator's 24/7 customer service and global low-price guarantee. With more than 1 million verified reviews plus exclusive videos and insider travel tips, Viator has everything a traveler needs to find and book the best things to do. In addition to the flagship site – Viator.com – travelers can book in advance or in-destination via the Viator Tours and Activities App, as well as local-language sites for European, Latin American and Asian travelers. Viator also provides tours and activities to more than 3,000 affiliate partners including some of the world's top airlines, hotels and online travel agencies. Viator is headquartered in San Francisco with regional offices in Sydney, London and Las Vegas. Viator – travel with an insider.