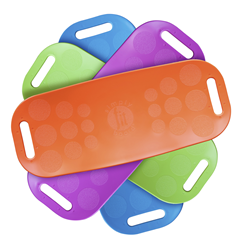 The minute I saw the Simply Fit Board I knew it the was a hero and I did the deal so we could bring it to consumers nationwide.
Los Angeles, CA (PRWEB) September 13, 2016
Simply Fit Board, an exercise board that engages core muscles helps to improve strength and balance, providing a powerful fitness regimen has launched nationwide.
The Simply Fit Board® offers an easy and effective workout through its unique twisting motion and pivoting action by targeting fat zones and improving balance of its user. The board provides a fun low impact workout that is easy on the joints.
After a mother-daughter team presented their business ideas on ABC's hit entrepreneurial series, "Shark Tank," TV Personality, Inventor/Entrepreneur Investor Lori Greiner struck up a deal with Simply Fit Board to give it the push it needed toward lucrative success.
"I like being toned but I'm not big into working out and sweating. That's why I fell in love with the Simply Fit Board," said Lori Greiner. "The minute I saw it I knew it was a hero and I did the deal so we could bring it to consumers nationwide."
The Simply Fit Board® comes in four vibrant colors: magenta, blue, green, and orange. A DVD is included with exercise routines that target different areas of your body. If you are not satisfied with the product you get a full refund of the purchase price and Simply Fit will pay the return shipping. Currently retailing at $39.99, it can be purchased on http://www.SimplyFitBoard.com. Please visit the website for additional information.
About Simply Fit Board®
The workout board with a twist, the Simply Fit Board® is a uniquely designed exercise board that makes it easy to get in an efficient workout almost anywhere. Simply place the board on a smooth, carpeted surface and stand on the board to engage abs, legs, and more while doing basic twists, weight training, knocking out squats and planks, and other exercises!