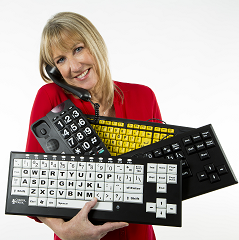 "Our mission is to improve quality of life and independence with the right assistive technology."
Fort Lauderdale, FL (PRWEB) September 07, 2016
Florida Vision Technology (formerly Florida Reading and Vision Technology), a leading provider of assistive technology for the visually impaired and blind, is celebrating their 13th anniversary. With over 23 years of experience, Lesa Kretschmer, founder and CEO, continues to champion efforts to enhance the quality of life for the visually impaired though community involvement and personal dedication.
"Because of our growth, and the new technologies available today, I wanted to refresh our branding to reflect the company's evolution. Our new name is Florida Vision Technology, or abbreviated as FVT," adds Kretschmer.
Building the company from the ground up, Florida Vision Technology opened their flagship store in Fort Lauderdale in 2003 and formed an alliance with Lighthouse of Broward in 2008.
"Connecting with our community is at the core of our business," states Kretschmer, "and what better way to do that then to have a physical store where our consumers can come in, experience our products, and change their lives."
"Our mission is to improve quality of life and independence with the right assistive technology," states Kretschmer. Florida Vision Technology is a provider of cutting-edge assistive technology, such as the world's 1st Google-certified Braille tablet, BrailleNote Touch, and OrCam's MyEye device which reads text on-the-go and interprets objects in the wearer's environment just by pointing. The MyEye device is making a big impression. The Huffington Post just featured a full article showcasing the new OrCam product.
Conveniently located at 650 N. Andrews Avenue, Fort Lauderdale, Florida, Lesa and the store's expert staff can assess the specific needs of the customer and provide hands-on, interactive demonstrations to ensure the right product match. From big button phones and keyboards to reading machines, magnifiers, talking watches and clocks, Florida Vision Technology offers over 500 products that help seniors and others who suffer from Macular Degeneration, Diabetic Retinopathy and other retina diseases live more comfortable, convenient and independent lives.
Part of Florida Vision Technology's mission is also to keep customers up-to-date on the newest break-through products and special offers through emails, newsletters, and new products demonstrations in their store and at local and state-wide events. To connect with Lesa Kretschmer and Florida Vision Technology visit http://www.floridareading.com to sign up for their newsletter, or stop by the store at 650 N. Andrews Avenue, Ft. Lauderdale, FL 33311. Like what they are doing? Visit their Facebook page at facebook.com/FloridaReading. To learn more about the company and its efforts, watch this video.
About Florida Vision Technology
According to the World Health Organization there are approximately 285 million people in the world who are visually impaired, of whom 39 million are blind. Lesa Kretschmer, founder and CEO, has worked in the blindness and low vision industry for more than 23 years. She is committed to placing the best adaptive technology and products available today within reach of blind and visually challenged people of all ages and walks of life.