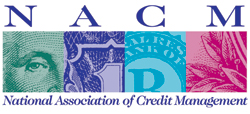 The combined manufacturing and service score reached a low (52.0) not seen for more than two years.
Columbia, MD (PRWEB) August 31, 2016
Good news in the August Credit Managers' Index (CMI) from the National Association of Credit Management (NACM) is short-lived. Although the combined score and index of favorable factors sit above 50 in expansion territory, that's where the good news ends.
The combined manufacturing and service score reached a low (52.0) not seen for more than two years. The score reflects the month-on-month deterioration of favorable categories which went from 60.0 to 56.4. In comparison, unfavorable factors contracted slightly (49.2 to 49.1). "The best that can be said about the decline is that it was bad and hasn't gotten much worse," said NACM Economist Chris Kuehl, Ph.D. "The most vexing part of the change is that it is happening at the start of the season that many in the economy count on for growth."
Of the favorable factors, the sales category fell the hardest (60.0 to 53.7)—another two-year low. "The sales collapse meshes with the Purchasing Managers' Index and other statistics, so it is unlikely an anomaly," Kuehl said. New credit applications took a softer fall (57.8 to 56.7), and dollar collections dipped (59.5 to 55.5) to a number not seen since December. Although it appeared amount of credit extended had started to normalize in the 60s, this month it slipped (62.8 to 59.7). "Amount of credit extended is important as this reflects credit issuance to the larger clients and customers as they are the ones that will be seeking the most," Kuehl said.
Unfavorable categories remained weak overall even with minor improvements in rejections of credit applications and disputes, 50.7 to 51.6 and 47.6 to 47.8, respectively. "The only companies accessing credit are the good customers and the ones least likely to be turned down," Kuehl said. Filings for bankruptcies grew from 50.7 to 52.8. "This reading has stayed fairly steady for the bulk of the year and signals that most of the credit crisis has been as expected," he said. Accounts placed for collection had the lowest reading since November 2015, dropping from 48.2 to 47.7. Dollar amount beyond terms (48.8 to 46.3) and dollar amount of customer deductions (49.0 to 48.1) also both fell. "The bottom line as far as the unfavorable factors are concerned is that things have not started to improve any, but they are not getting any worse either."
For a full breakdown of the manufacturing and service sector data and graphics, view the complete August 2016 report at http://web.nacm.org/CMI/PDF/CMIcurrent.pdf. CMI archives may also be viewed on NACM's website at http://www.nacm.org/cmi/cmi-archive.html.
ABOUT THE NATIONAL ASSOCIATION OF CREDIT MANAGEMENT
NACM, headquartered in Columbia, MD, supports more than 15,000 business credit and financial professionals worldwide with premier industry services, tools and information. NACM and its network of affiliated associations are the leading resource for credit and financial management information, education, products and services designed to improve the management of business credit and accounts receivable. NACM's collective voice has influenced federal legislative policy results concerning commercial business and trade credit to our nation's policy makers for more than 100 years, and continues to play an active part in legislative issues pertaining to business credit and corporate bankruptcy. NACM's annual Credit Congress & Exposition conference is the largest gathering of credit professionals in the world.