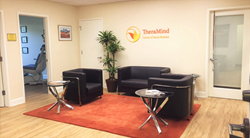 TMS therapy... "Saving lives one click at a time" -Dr. Erwin Ramos, CMO TheraMind Services, Inc.
Santa Barbara, California (PRWEB) August 31, 2016
TheraMind Services, Inc., a leading national provider of outpatient neuropsychiatric treatment services, is pleased to announce the grand opening of its newest center, the TheraMind Center of Santa Barbara. The new TheraMind®Center brings non-invasive and non-drug, cutting edge neurologic and psychiatric treatments to the Central Coast. Utilizing the latest diagnostic and therapeutic technologies, the Center's board certified medical professionals treat severe depression and mood disorders, chronic pain, stroke related disorders, concussion and traumatic brain injuries.
The Center, located at 351 Hitchcock Way, is the 13th outpatient facility opened by TheraMind nationally and employs an integrated, multidisciplinary, team approach to the delivery of neuropsychiatric patient care. The TheraMind Center is under the medical direction of David Agnew, M.D. (neurology), Erwin Ramos, M.D. (psychiatry), Tiffany Thompson, MFT, Ph.D.(c) (psychotherapy and neurotherapy), Barbra Mousouris, CA, C.Ht., HTp. (hypnotherapy) and Erika Winston, LMT (therapeutic massage) working in collaboration with other highly trained and certified professionals in neuroradiology and hyperbaric oxygen therapy (HBOT).
David C. Agnew, M.D., FAAPM, is one of the pioneers in pain medicine in the United States. After completing one of the first fellowships in intractable pain studies ever given at the Institute of Neurology, Queen Square, London, England, he began his professional career as the Director of Neurology at the City of Hope National Medical Center. Working with an interdisciplinary team, Dr. Agnew and his colleagues developed the basic treatment models confirmed by published clinical studies on which most chronic pain treatment programs in this country are based. Dr. Agnew is a founding member of the American Academy of Pain Medicine, and member of the International Association for the Study of Pain, the Western U.S.A. Pain Society, the American Pain Society, the American Academy of Pain Medicine and the California Pain Medicine Association, on whose boards of directors he has served. He was appointed to the faculty of The USC Keck School of Medicine, Department of Neurology, in 1976, has served on the board of directors, as well as president of the Los Angeles Society of Neurology and Psychiatry. He served as head the Pain Department at the St. Francis Medical Center in Santa Barbara from 1986 to 1994 and today maintains a private practice in neurology and pain medicine in Santa Barbara.
Erwin F. Ramos, M.D., completed his undergraduate studies at the Old Dominion University in Norfolk, VA in 1992 earning a BS in Psychology. He did his medical training and received his Medical Degree from the University of the East Medical Center in the Philippines. In 1999, following completion of his M.D., he participated in research at Wayne State University and the Detroit Medical Center with the Department of Infectious Disease and Pediatrics. He entered his Psychiatric Residency in 2006 with Creedmoor Psychiatric Center and trained in psychiatry at the NY Presbyterian Hospital/Columbia University in New York. Upon graduation, Dr. Ramos accepted a Fellowship opportunity with the University of Florida in Community and Public Psychiatry. Upon completion of his Fellowship in 2011, Dr. Ramos was appointed as a Clinical Assistant Professor of Community and Public Psychiatry at the University of Florida Center for Psychiatry and Addiction Medicine in Vero Beach. While at the University of Florida, Dr. Ramos provided transcranial magnetic stimulation (TMS) treatments as an option for patients suffering from Major Depressive Disorder. In 2014, Dr. Ramos commenced his individual practice using TMS therapeutic services as an integral part of the therapy for Major Depressive Disorder and other neuropsychiatric disorders. Dr. Ramos is notorious for his belief in taking time to educate his patients about their diagnosis and providing a basic understanding of how various treatment regimens work. Dr. Ramos' TMS motto is "changing lives…. one pulse at a time."
Tiffany P. Thompson, MFT, Ph.D.(c), completed her undergraduate studies at the University of Maryland, graduating with honors in the Department of Communication. She holds two Master's Degrees, one from the University of Maryland in Communication with a specialty in Rhetoric and a second in Counseling Psychology from Pacifica Graduate Institute in Santa Barbara. She is set to defend her dissertation on the intersection of EEG and depth models of the psyche on September 20, 2016 to earn her Ph.D. She completed internships at New Beginnings Counseling Center, the Salvation Army, and Santa Barbara Brain Fitness, earning her marriage and family therapist license. She concurrently completed work in a Ventura neurology clinic, earning status as a Registered EEG Technician via the American Society of Electrodiagnostic Technicians. She earned her board certification in neurotherapy from the Biofeedback Accreditation International Alliance, as well as the status of Quantitative EEG Diplomate from the Quantitative EEG Certification Board. In 2016 she was certified in TMS therapy and hyperbaric oxygen therapy. Ms. Thompson provides a wide array of psychotherapeutic and neurotherapeutic services to adults, adolescents, and children. She is a board member and past Executive Director of the Western Association of Biofeedback and Neuroscience, as well as a member of the California Association of Marriage and Family Therapists, the Clinical TMS Society, and the International Society for Neurofeedback and Research.
At TheraMind, our commitment is to improve the lives of patients with the most advanced therapeutic, non-drug alternatives for treating chronic pain and a broad variety of neuropsychiatric disorders, including depression, anxiety, PTSD, OCD and other psychopathologies. Advanced diagnostic technologies, including quantitative EEG and fMRI, enable our physicians to develop a unique treatment regimen for each patient combining, as needed, the latest FDA approved therapeutic technologies available, including transcranial magnetic stimulation (TMS), tDCS/tACS, pEMF, neurofeedback, biofeedback and hyperbaric oxygen therapy (HBOT), among others. Our patients tell the story themselves:
"I had suicidal thoughts, no motivation and a lack of interest in friends and family. I tried four antidepressants; they didn't relieve any of the issues I was having…and included side effects I wasn't willing to tolerate. I decided to try TMS, and started to feel a difference after my 5th week of treatment. I feel motivated at home, more joyful around people and enjoying life again!!" KH
"I am a wife, mother and grandmother. I have suffered from depression since my high school years, and went undiagnosed until my mid-thirties. At 57 I found myself taking 4 antidepressants, 1 anti-anxiety pill, 1 stimulant and 1 sleeping pill. My depression went unchanged, and I continued to suffer depression to the point of being suicidal. ECT was suggested to me but I didn't like the procedure involved or possibility of memory loss. I was introduced to TMS at my psychiatrist's office, and I hoped it would maybe be the answer to my prayers. TMS has turned my life around! I laugh and love again, I have so much more motivation and my memory has improved tremendously. TMS has been a true miracle in my life!" S
Santa Barbara's new TheraMind®Center -- Setting the standard for Integrated, Multi-disciplinary Neuropsychiatric Healthcare! For an appointment or to learn more about our services call (805) 845-4455 or visit the Santa Barbara clinic materials on our website at http://www.tmsmind.com. Follow us on Facebook and LinkedIn.