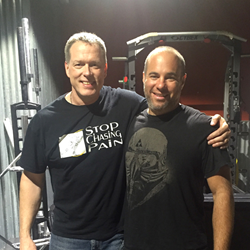 It was probably one of the best seminars Ive attended in a long time...
New York, NY (PRWEB) September 01, 2016
One of the most highly regarded NYC chiropractors, Dr. Steven Shoshany recently attended an intense, and involved workshop on movement and pain relief through proper physical function and mobility. Commonly known as the "Stop Chasing Pain" course, the weekend seminar was hosted by movement and mobility guru, and chiropractor, Dr. Perry Nickelston. The seminar took place on the weekend of August 20th, in Brooklyn, New York.
Dr. Shoshany was excited to attend the seminar, and afterwards he felt even more energized and and feels that it will further expand his ability to treat patients suffering from various forms of thoracic, lumbar and cervical pain. "It was probably one of the best seminars Ive attended in a long time, the approach, diagnostic process and holistic, movement and mobility based solutions were similar to my own approach." Dr. Shoshany also had a great impression of Dr. Nickelston, he added that "Dr. Nickelston is a very innovate and forward thinking guy. He's an effective communicator, and his approach isn't just about looking at the problem, but above, below and behind it. I will absolutely integrate some of those methods in to my every day practice. For years, I've felt that this approach should be that standard for treating musculoskeletal pain and injuries."
Dr. Steven Shoshany feels that the information he picked up at the Stop Chasing Pain seminar enhances the ability of the specialists at his Manhattan practice to address mechanical injuries and issues involving the entire kinetic chain. Dr Steven Shoshany has been practicing for over 15 years and is also a pioneer in popularizing now common modalities such as kinesio taping, the Graston Technique, ART (Active Release Technique), and spinal decompression. He has been advocating for more integration of medical disciplines, and better non-surgical treatment for back pain. Dr. Shoshany is also a certified chiropractic extremities practitioner.
Dr. Shoshany is one of a few advanced chiropractic practitioners that doesn't rely solely on adjustments of the spine, but also incorporates an array of tools, selecting which tool best suits the patient and the malady. Dr. Shoshany has been the chiropractic component in a long established multidisciplinary, integrated practice. He is excited to be able to offer his patients even more options for combating pain. He feels that his patients have more options and he can continue to expand his practice and scope to address issues linked with lifestyle, and even exercise.
For more information on Dr Shoshany, movement related pain, and treatment for many common forms of lumbar and cervical pain, or to make an appointment visit drshoshany.com, or call 212 645 8151.