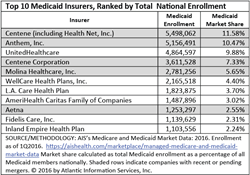 Washington, DC (PRWEB) September 01, 2016
The top 10 Medicaid insurers in the U.S. represent 57% of the managed Medicaid market, according to research in the Atlantic Information Services, Inc.'s (AIS) recently released Medicare and Medicaid Market Data — a number that's sure to keep growing amid industry consolidations. Four of the top 10 companies have been involved with mergers and acquisitions that would allow them to scoop up even more of the market, AIS research shows. While the proposed merger of Anthem Inc. and Cigna Corp. — currently being contested by the Department of Justice (DOJ) — would not add significant Medicaid lives to Anthem, Aetna could stand to gain more than 400,000 Medicaid lives if its proposed merger with Humana survives its own DOJ lawsuit, according to AIS.
What's clear from AIS's research is that the Medicaid market is a significant draw for companies looking to make acquisitions: The third-ranking Medicaid insurer, Centene Corp., in spring 2016 completed its acquisition of the number six insurer, Health Net, Inc. The combined entity now has 5,498,062 lives and nearly 12% of the market, catapulting it past previous Medicaid market leader Anthem.
Number four Medicaid insurer Molina Healthcare, Inc. is also ramping up its already robust Medicaid business through mergers and acquisitions, having acquired Preferred Medical Plan in Florida and HAP Midwest in Michigan in 2015. The insurer recently completed its acquisition of the Total Care Medicaid/SCHIP plan from Universal American.
For more information on AIS's Medicare and Medicaid Market Data, including a full table of contents and sample pages, visit https://aishealth.com/marketplace/managed-medicare-and-medicaid-market-data.
About AIS
Atlantic Information Services, Inc. (AIS) is a publishing and information company that has been serving the health care industry for nearly 30 years. It develops highly targeted news, data and strategic information for managers in hospitals and health systems, health insurance companies, medical group practices, purchasers of health insurance, pharmaceutical companies and other health care organizations. AIS products include print and electronic newsletters, databases, websites, looseleafs, strategic reports, directories, webinars, virtual conferences and training programs. Learn more at http://AISHealth.com.